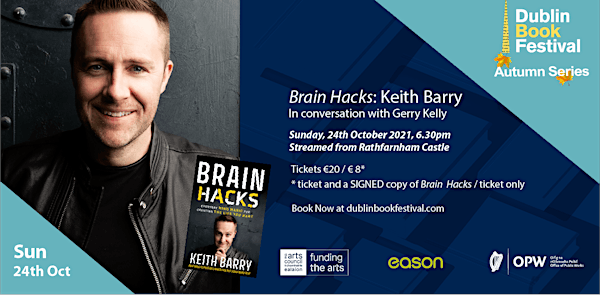 Brain Hacks: Keith Barry in conversation with Gerry Kelly
Everyday Mind Magic for creating the life you want…
Refund Policy
Contact the organiser to request a refund.
About this event
Everyday Mind Magic for creating the life you want…
Keith Barry is the world's leading TV hypnotist, mentalist and brain hacker. With skills that have been showcased on over 40 international television shows, he has mastered the unique ability to hack into people's minds and rewire their subconscious.
Join Dublin Book Festival for an evening of celebration and conversation on the release of Keith's book Brain Hacks (Gill Publishing) - in which Keith reveals a variety of techniques that will help you to cultivate a champion mindset and develop mental toughness subconsciously.
Filmed at Rathfarnham Castle in Dublin, Keith will be in conversation with multi award-winning broadcaster Gerry Kelly as they discuss how the various methods in the book and how mastering them can help you programme your mind to have all the success you desire.
Tickets priced €20 and over include a SIGNED copy of Brain Hacks delivered to your door.
Ticket prices vary depending on your shipping address. Please take note of your ticket options before purchasing. Brain Hacks is released on 22nd October 2021 and all orders will be shipped on release day. Unfortunately, we cannot guarantee its arrival before the event.
This event is pre-recorded at Rathfarnham Castle, Dublin.
In partnership with Eason.