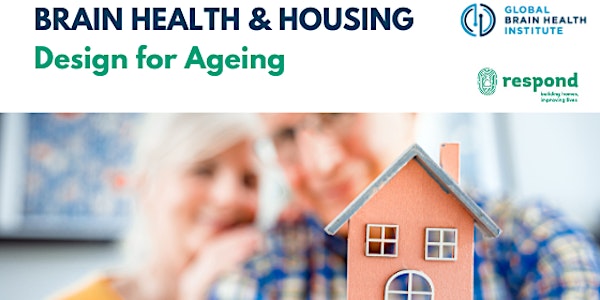 Brain Health & Housing: Design for Ageing
Join the Global Brain Health Institute (GBHI) and the Irish housing agency Respond for the inaugural Brain Health and Housing event.
About this event
The seminars, which will bring together experts in the fields of brain health and housing, will be of interest to a public audience as well as policy makers, academics, housing and brain health professionals.
At the June 21st event, speakers will explore the biomedical, social, design and community considerations of age-adapted living including the relationship between brain health and the built environment and how green innovations can help older adults live healthier and happier lives.
It will be an action-oriented session, aiming to discuss, generate and disseminate best practice in the field.
Programme
Welcome
Ian Robertson - Co-Director, Global Brain Health Institute
Declan Dunne - CEO, Respond
Speakers
Greg Walsh and Fiona Walsh - Co-Founders, DDS Architects & Atlantic Fellows for Equity in Brain Health
Rutger de Graaf - Innovation Manager, Pennemes and Het Mennistenerf
Panellists
Berenice Werle - Geriatrician, Atlantic Fellow for Equity in Brain Health
Suzanne Timmons - Clinical Lead, National Dementia Office
Marissa Plouin - Housing Policy Analyst, OECD
Nora Owen - Former Irish Minister for Justice
Tom Grey - Research Fellow, TrinityHaus Research Center, Trinity College
At the intersection of brain health and housing, GBHI and Respond are working in partnership to examine our understanding of brain health as it applies to housing design across the lifespan, care provision and homeless services.
Furthermore, many of the modifiable risk factors associated with increased dementia risk relate to housing security and our built environment. Tackling these risk factors and promoting brain health may prevent or delay the onset of dementia at a population level.
The Global Brain Health Institute is dedicated to protecting the world's aging populations from threats to brain health. We strive to improve brain health for populations across the world, reaching into local communities and across our global network. We focus on working compassionately with people in vulnerable and under-served populations to improve outcomes and promote dignity for all people.
Respond, an Approved Housing Body and service provider, has been working all around Ireland for 39 years. Our vision is that every family and individual in Ireland will have high‐quality housing as part of a vibrant and caring community. Housing and decent accommodation, in the areas where people want to live, are central to improving people's lives and enhancing the health and well‐being of society.
Find out more about the GBHI and Respond Brain Health & Housing Seminar Series