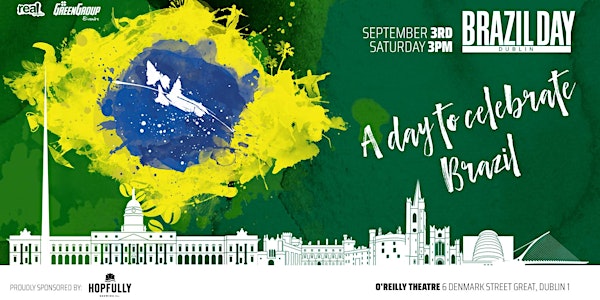 Brazil Day Dublin 2022
Experience Brazilian music, dance, food, culture and community in Dublin all in one day!
When and where
Location
O'Reilly Theatre 6 Denmark Street Great D01 TK25 Dublin 1 Ireland
About this event
🇧🇷 Brazil Day is a cultural festival of Brazilian music, dance, food, arts & crafts and community activities in Ireland 🇮🇪
🟡 2022 is the 10th year of Brazil Day in Ireland and also coincides with the bicentennial of Brazilian Independence. The event will take place at the O'Reilly Theatre in Dublin 1 from 3-10pm 🟢
Event line up so far:
MUSIC: 2 stages, 7 bands, over 45 musicians, DJs and a wide mix of music genres from all around Brazil (see schedule below)
DANCE: Dance performances by Drop Studio, Passista by Rio Soul Samba & Forró Ireland
FOOD: Feijoada, snacks & sweets by Padoca & BBQ Espetinhos by B.Skewers
DRINKS: Cans of Brazilian owned Hopfully Brewing Co beer & Brazilian cocktails by BR Academy
CAPOEIRA: Workshops (3-5pm) & Roda (5pm) with a collective of the leading capoeiristas around Ireland
TALKS: Vilson Junior & Cris Gasparoti from Hopfully Brewing Co, Thaís Muniz from Turbante-se , Talk to Ross & Edu from Edublin (see schedule below)
MARKET: Organised by BodySoul. 30 Stands with arts & crafts, local Brazilian products & community organisation information (feat. Green Tulip Candles, Let's Talk About Bruno, Rise Jewels, Natoman, Helio Neto, Isea Art, KT Studio, La Carioca, Liz Jewelry, Paperfect Dublin, Joelles Natural Products, Cherry Rasberry Jewelry, My moon, Awa, My fantasy, Macaw gifts, Fairy Touch, Mahalo Stone Jewellery, FitWoman, Carla Horrana, Yby Beauty, Thats4yous, Fabilous, Cute Bow, Sabrina Mota, Mary Kay, Meia na Caneca, Vodita Craft & Taleevh)
💚 Produced by: Real Events & Green Group 
​💛 Sponsored by: Good Trouble Ink & Hopfully Brewing
Notes:
• Event is for 18 years of age and over - ID required. Tickets non-refundable.
• Capacity is limited, we expect to be sold out before Saturday & no tickets at the door, get your tickets ASAP!