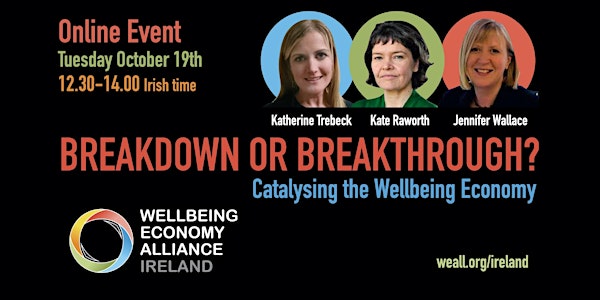 Breakdown or Breakthrough: Catalysing the Wellbeing Economy
An interactive launch event for the Wellbeing Economy Alliance's Hub for Ireland.
Refund Policy
Contact the organizer to request a refund.
About this event
In this interactive event - a follow-up to our successful online gathering in June - we'll hear from leading global visionaries Kate Raworth of Doughnut Economics and Katherine Trebeck of the Wellbeing Economy Alliance. They will join with Jennifer Wallace of the Carnegie UK Trust, core members of the new WEAll Hub for Ireland, the Irish Doughnut Economics Network and other local Irish activists to help identify the strategic actions that are needed to shift values and reorient our economies toward wellbeing policies and practices, to create an island of wellbeing.
Date: Tuesday October 19
Time: 12:30-2pm Irish time
About the speakers
Kate Raworth is a renegade economist focused on making economics fit for 21st century realities. She is the creator of the Doughnut of social and planetary boundaries, described in her book Doughnut Economics. She is also the co-founder of Doughnut Economics Action Lab.
Katherine Trebeck is a co-founder and Senior Strategic Advisor for the Wellbeing Economy Alliance (WEAll). She is also co-author of the book The Economics of Arrival: Ideas for a Grown-Up Economy . She is a Senior Visiting Research Fellow at the University of Strathclyde and a Distinguished Fellow of the Schumacher Institute.
Jennifer Wallace is head of policy at Carnegie UK Trust. Her key areas of interest include wellbeing, public service reform and community empowerment. She is the author of numerous books and has been closely involved in wellbeing economy work in Scotland and Northern Ireland.