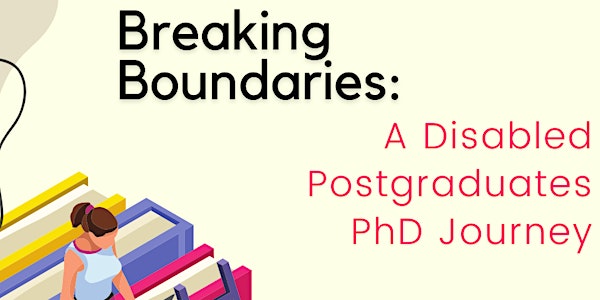 Breaking Boundaries: A Disabled Postgraduates PhD Journey
Seminar dates run from 22 Feb, 15 March, 26 April, 17 May and will hear from disabled academics who have completed postgraduate study.
About this event
Each seminar will have a different theme beginning with Mental Health and Well -Being and future sessions will focus on Intersectionality, and Invisible Disabilities. Disabled students only make up 2.3% of postgraduate the population (Ahead, 2019). The Trinity College Dublin Forum for Disabled Staff and Postgraduate Students has identified that they face many barriers to their successful transition to and completion of postgraduate study. In recognition of this, the TCD Forum for Disabled Staff and Postgraduate Students in association with the Trinity Ability co_op, and with the support of the Postgraduate Advisory Service Postgraduate Community & Wellbeing Fund , and the GSU Disability Rights Officer have organised this series of talks. This seminar series is open to all and indeed we would welcome guests from all colleges. It would be of interest to disabled people considering postgraduate study or staff in higher education interested in understanding the barriers facing postgraduate researchers.
Event Schedule:
The series will be launched by Dr Martine Smith, Trinity College Dublin Dean of Graduate Studies on 22nd February.
22nd of February at 1 - 2 pm: Mental health and well-being.
Forum Convenor Dr Vivan Rath and Vice Convenor Dr Patricia McCarthy will be joined by Dr Emma Farrell, UCD, to discuss the demands of postgraduate study on mental health and well-being and ways in which researchers, with and without disabilities, can support their mental health throughout their postgrad journey.This exciting series of seminars will hear from six leading academics who will share their experiences of completing postgraduate research. They will focus on their research, their research journeys, along with their strategies for success.
15th of March at 12:30 - 1.30pm: "I did it...Didn't I? - Reflections on my doctoral graduation after more than a decade."
Dr John Bosco Conama is the director of the Centre for Deaf Studies (Trinity College, University of Dublin) and former chairperson of the Irish Deaf Society.
26th of April at 1 -2 pm: "Addison's, Bartters, Academia and Me"
Dr. Fiona Smyth. Fiona is an interdisciplinary scholar in Science and Society in the School of Education and a lecturer at Trinity Centre for People with Intellectual Disabilities Her expertise lies at the interface of the history of architecture and the history of science with a central focus on acoustics.
17th May 1-2pm: Insectionality and the Beginning of a PhD journey
Sara Kift is a PhD candidate in the School of Medicine at Trinity College Dublin in the discipline of Occupational Therapy. Her area of specialization is in the field of neonatal occupational therapy. Previously, Sara obtained a Doctor of Science in Clinical Occupational Therapy (DScOT) from Baylor College, and a Master of Science in Occupational Therapy from Kean University.
Sara spent 5 years in the US Army before medically retiring. She has several disabilities which have led her to take an active role in the Disability community at TCD. She is the first Disability Officer for the Graduate Students Union and holds board seats on the Forum for Disabled Staff and Postgraduates and the Trinity Staff Disability Working Group. She is also an active participant with the Disability Research Network.
Daniel Twomey is commencing the final year of his PhD journey in September 2022. Daniel is a Ph.D. Researcher of well-being at Trinity College Dublin. Daniel is a published author and international public speaker on the topic of physical activity and positive mental health. Daniel suffered with his own mental health in his twenties, which ignited his passion for helping others who may be struggling with their own physical or mental health.
Accessibility Requirements
If you have Accessibility Requirements, please fill out this form