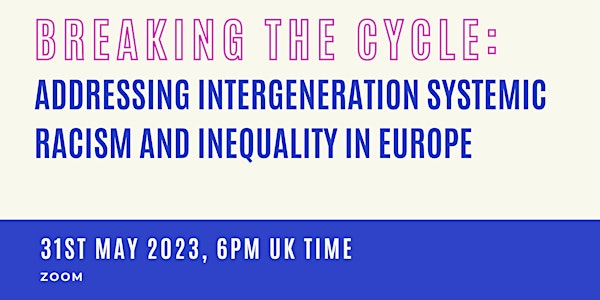 Breaking the cycle: Addressing Intergeneration Systemic Racism in Europe
Breaking the cycle: Addressing Intergeneration Systemic Racism and Inequality in Europe.
Date and time
Wed, 31 May 2023 10:00 - 11:30 PDT
About this event
1 hour 30 minutes

Mobile eTicket
Up to 15 million People of African Descent are currently living in Europe, among them are women of African descent. They Constitute some of the poorest and most marginalized groups. They have limited access to quality education, health services, housing, and social security, and have experienced discrimination in their access to justice, and face alarmingly high rates of police violence, together with racial profiling. As noted by Durban Declaration Programme for Action in article 69: racism, racial discrimination, xenophobia, and related intolerance reveal themselves in a differentiated manner for women and girls and can be among the factors leading to a deterioration in their living conditions, poverty, violence, multiple forms of discrimination, and the limitation or denial of their human rights. Additionally, Children of African descent in Europe are among the EU's most disadvantaged children, they are affected poorly by poverty, racist bullying and are often disproportionately higher numbers in state care.
Migration has been a key trigger of mental health for African in Europe, the conditions that make people leave their countries and migration journey affect them before arriving at their countries of destination, others do not arrive at countries of destination.
This side event is organised by former fellows' women of African descent in Europe and will focus on structural racism as experienced by people of African descent in Europe which is very much embedded in all systems, laws, and policies.
Speakers:
• Dr Salome Mbugua, CEO AkiDwA will moderate the session and will give introduction on intersectionality between race, migration and racism focusing on situation in Europe.
• Ojeaku Nwabuzo, Director , Policy and Advocacy ENAR, will focus on Racism and discrimination inthe context of Migration in Europe.
• Ms Neneh Bojang, Director, The Inter African Committee In Norway. She will focus on Balancing The Rights of Black Children with those of their Parents.( Child Protection).
• Carolina Coimbra: Director, SaMaNe - Health of black and Racialized mothers in Portugal. She will focus on  Discrimination in Maternal and Reproductive Health Care for Black and Afro-descent women in Portugal
• Miriam Ekiudoko, UN Special Mandate holder. She will focus on  Roots of contemporary systemic and institutional anti-Black racism in Europe.
• Stephen Amazia Dradenya: Secretary general,  Uganda Diaspora Europe (UDE) will talk about , racial and challenges  facing children of  African descent in Netherlands.
• Yvonne Apiyo Brändle-Amolo, CEO PAWA, will talk about intergenerational trauma on PAD in Switzerland due Racism.
• Priscellia Robinson: Legal expert UK, will talk about taking victims seriously-  Reparation matters.
About the organiser
AkiDwa is the network for migrant and African women living in Ireland
Established in Dublin in 2001, AkiDwA has been representing migrant women in Ireland for almost two decades by providing policymakers with the unique perspective of a migrant-led national women's organisation. AkiDwA takes a holistic approach to integration that involves promoting both a migrant and a gender-specific approach to public services and by encouraging migrant women to access mainstream services and initiatives. We promote equality and justice for all migrant women in Ireland by ensuring equal opportunities and equal access to resources for all.
AkiDwA is based at Unit 2, Killarney Court, Buckingham Street, Dublin 1 
Registered Charity Number 20063641/ CHY No 17227