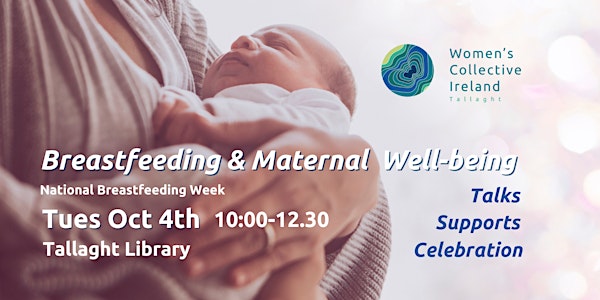 Breastfeeding & Maternal Well-being Event
Information for mums-to-be and breastfeeding mums, Support Organisations, Talks, Well-being practices and a Breastfeeding celebration
When and where
Location
Tallaght Library Library Square D24 A3EX Tallaght Ireland
About this event
As part of our National Breastfeeding Week celebrations and Tallaght Health Fair we are hosting a support and information morning both for mums- to-be interested in breastfeeding and established breastfeeding mums.
There will be;
- An informative breastfeeding talk from International Board Certified Lactation Consultant, Kirsten Killoran
- A game changing talk from Life Coach for mothers, Jacqueline Kelly, about adjusting to motherhood, looking after yourself, and thriving while challenging ideas of what motherhood "should" look like and mum guilt
- Well-being techniques and exercises recognising the importance of maternal mental health and of self-compassion
- Breastfeeding and parenting organisations will be represented to give information on local mother's groups and other supports/resources available, such as Friends of Breastfeeding, Cuidiu and La Leche League.
- Short #Brelfie breastfeeding celebration video creating by Friends of Breastfeeding featuring beautiful images sent in by their breastfeeding mums
FURTHER DETAILS ON SPEAKERS AND ORGANISATIONS BELOW
IBCLC Kirsten Killoran :
Kirsten is a mum of two, and an International Board Certified Lactation Consultant working in South West Dublin and West Wicklow.
She provides a range of supports, from breastfeeding preparation classes, to help and troubleshooting in the early days of breastfeeding, to helping you plan for your return to work and everything in between.
Kirsten is an active volunteer with the Friends of Breastfeeding Mum2Mum group in Citywest, and a breastfeeding counsellor with Cuidiu West Wicklow. She is currently training as a Birth Trauma Resolution therapist to provide additional supports for parents and healthcare workers.
www.kisslactation.ie 086 264 4660
Maternal Life Coach Jacqueline Kelly
Jacqueline is a fully certified Life Coach who supports mums who feel lost in the transition from being the woman they used to be to the mother they are now. She knows the process of discovering who you are at this stage of your motherhood journey, and uses results based coaching to guide you through it.
Nowadays there is more discussion and more awareness around how pressurised, lonely and isolating motherhood can be. But this doesn't stop mums feeling ashamed to admit how they feel. Jacqueline will talk about well-being and mindset to help give you a roadmap on your journey while highlighting you are not alone in this.
www.ourbravehearts.ie 0857721359
Friends of Breastfeeding
Friends of Breastfeeding works to ensure that women in Ireland achieve their desired breastfeeding experience of their choice. They network to connect women in Ireland who want to breastfeed with other mums and their local support system, running local supports groups, events and the Breastfeeding Buddy System. They work to build communities of supportive friends, family and health professionals – "friends" of breastfeeding.
www.friendsofbreastfeeding.ie
Cuidiu
Cuidiú's motto is education and support for parenthood. Their aim is to provide information to parents which allows them to make informed choices about pregnancy, childbirth and breastfeeding and to provide a supportive background to empower parents to act upon their decisions. Cuidiu run local support groups, events and antenatal classes.
www.cuidiu.ie
La Leche League
La Leche League's mission is to help mothers worldwide to breastfeed through mother-to-mother support, encouragement, information, and education, and to promote a better understanding of breastfeeding as an important element in the healthy development of the baby and mother. They offer trained breastfeeding support, local groups and also give talks at antenatal and breastfeeding classes.
www.lalecheleagueireland.com