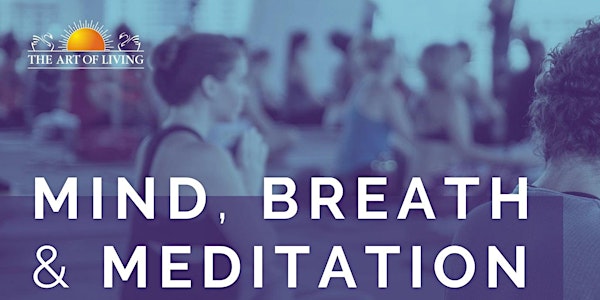 Multiple dates
Breath & Meditation Class - Introduction to SKY Breath Meditation
Learn to easily deal with anxiety and fatigue with simple breathing and meditation techniques
Date and time
Thu, 26 Jan 2023 16:00 - Thu, 30 Mar 2023 18:00 GMT
Location
University College Dublin UCD Veterinary Building, 116 room Belfield Ireland
About this event
Join a FREE, Live Breath & Meditation Class
Learn to easily deal with anxiety and fatigue with simple breathing and meditation techniques
Learn an easy breathing technique for battling fatigue
Effortlessly overcome anxiety with a guided meditation
Learn more about the Art of Living's SKY Breath Meditation to dive deeper
In this 120 min workshop you will get the chance to pause, take a breath and clear your mind with the help of a calming breathing technique and a guided meditation.
How breath helps reduce stress and anxiety
Did you know that breathing techniques can quickly help you to release stress and lower your anxiety?
Breathing techniques improve circulation and blood flow to the brain, and activate our parasympathetic nervous system, which means that our brain gets the message to relax. For example, doing the alternate breathing activates the left and right hemispheres of the brain. When balance is created between the two hemispheres, we feel less stressed and anxious, and more relaxed.
In this free workshop you will already learn a technique that you can practice daily to feel calm, centered and stress-free!
Learn breathing exercises that boost health and immunity
Science is recognizing that proper breathing is essential for health. Targeted breathing exercises can actually boost our immunity and improve our overall health. Learning how to breathe is one factor that reduces our susceptibility to getting sick.
We breathe over 10,000 liters of air per day, and the more expanded our lung capacity is, the more nutrients our body can absorb. It's important to learn how to do breathing techniques under the proper guidance of a certified facilitator, so that we practice them in the right way to get the full benefit.
Why should I attend the Beyond Breath workshop?
During this free live workshop, you will learn:
✔ About the tendencies of our mind and how to overcome negative patterns using certain breathing techniques
✔ A calming breathing technique to quiet and relax the mind, preparing it for deep meditation
✔ A real experience of meditation to effortlessly cut the vicious cycle of thoughts, leaving your mind focused, clear & stress-free
✔ The power of connecting with positive, like-minded people to feel uplifted and supported
✔ About the benefits of SKY Breath Meditation, a powerful technique that will remove deep-rooted blocks, quiet the mind and lead you into effortless meditation.
97+ studies conducted on four continents have demonstrated a comprehensive range of benefits of practicing SKY Breath Meditation.
SKY Breath Meditation is reported to be a fundamental tool for maintaining and improving mental health by the Harvard Medical School and International Journal of Yoga. This science-backed breath-meditation technique quickly calms anxiety, releases stress, and boosts immunity.
Independent research has shown that SKY Breath Meditation
Reduces cortisol - the stress hormone
Supports the immune system
Increases optimism
Relieves anxiety and depression
Increases antioxidant production
Enhances brain function (increased mental focus, calmness and recovery from stressful stimuli)
Enhances well-being and peace of mind
In this live session, you will be guided step-by-step by your certified Breath & Meditation Trainer.
It's an interactive experience where you can ask questions and get clarity on what breathing and meditation is all about. We're here to guide you on this new breathing journey!
We only have limited spots available, as we want to keep these sessions small enough to properly connect with and guide everyone.
Learn more about SKY Breath Meditation in our workshop.
Sign up for free!
How can I contact the organizer with any questions?
Please contact us at artoflivingie@gmail.com. Phone: +353 894853446 or +353899667112
About the organiser
Art of Living Ireland Education Ltd. is a division of International Art of Living Foundation (IAOL) which was founded in 1982 and now operates worldwide in 155 countries. IAOL Foundation is an International Non-Governmental Organisation (NGO) in special consultative status with the Economic and Social Council (ECOSOC) of the United Nations and in formal consultation with the World Health Organisation (WHO).
The programs are guided by it's founder Sri Sri Ravishankar's philosophy of peace: "Unless we have a stress-free mind and a violence-free society, we cannot achieve world peace." To help individuals get rid of stress and experience inner peace, The Art of Living offers stress-elimination programs which include breathing techniques, meditation and yoga. These programs have helped millions around the world to overcome stress, depression and violent tendencies.