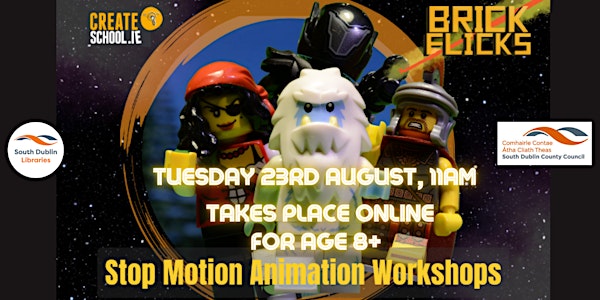 BrickFlicks - Stop Motion with Lego Animation Workshop - 23/08/2022
With a camera, a Lego minifigure and your imagination you will learn how to make stop motion animation!
About this event
Live Online Workshop plus additional access to Video Tutorials, Resources and Offline Activities
Suitable for ages 8yrs + ( we recommend that an Adult assists setting up the online call )
The same session is running on Tuesday, Wednesday and Thursday - please book only one session!
We will take you on the journey from having a cool idea to making it into an awesome film. On the way, we will explain the different parts of "stop motion" and how it works. We will share some of the great tips and skills we have learned when making our own films.
This short taster online workshop is delivered using a blended approach of online learning and offline activity.
For this event, priority is given to people living in the South Dublin County area. This may lead to the cancellation of your ticket. We appreciate this may cause disappointment, but hope for your understanding in the matter. Thank you.
Please do not book this event if there is any chance you cannot attend on the day.