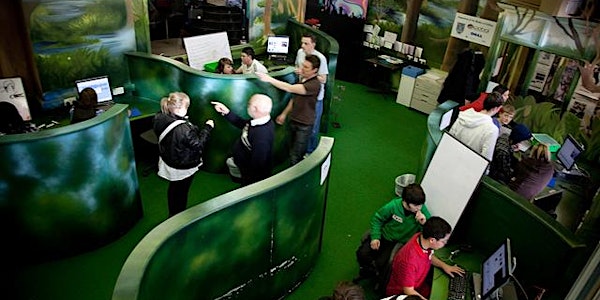 Bridge21 - Introduction Cycle - 3 day workshop in Digital Media and Programming (Scratch)
Date and time
Wed, 16 Aug 2017 09:30 - Fri, 18 Aug 2017 17:00 IST
Location
Dunlop Oriel Dublin Ireland
Refund Policy
Refunds up to 7 days before event
Description
Bridge21 are offering several innovative computing workshops for teachers and educators. After participation in the workshops (details below), participants will have developed a number of new technical skills and will be confident planning activities involving digital media production, programming and computational thinking. The workshops will be useful for teachers/educators and mentors who are engaged in informal education through Club-houses, CoderDojo, TechSpace and other similar youth programmes
Attendance to all the three days in the Intro Cycle (9:30-17:00 each day) is required.
The three days cover the following topics:
Digital Media:
Digital media is all around us in our daily lives. This workshop aims to develop teacher' ability to use digital technology, communication tools, and the internet creatively and innovatively, while also introducing the Bridge21 approach to learning. During the workshop a number of technical skills will be developed including video production, audio recording and graphic media production. Throughout the process of media production the participants will explore issues such as being safe online, evaluating information sources, copyright and intellectual property. This workshop provides the participants with an immersive experience, where they will see and experience the Bridge21 Methodology and Model in action. It is highly recommended that this workshop is attended first as it provides an excellent grounding in the Bridge21 methodology and model.

Scratch 1:
Scratch is a visual programming language developed by MIT which has become very popular in secondary schools. It uses a simple drag and drop, block based interface and is suitable for developing animations and games. This workshop is for those who are new to Scratch and also provides a quick introduction into algorithmic thinking ("how to think like a computer") before delving into the production of a short multi-scene animation using Scratch. There are no pre-requisites for attendance.
Scratch 2:
This workshop is centred on working in teams to design a multi-level game using Scratch. It will also explore the latest technologies that can be used to control the games developed in Scratch such as: Kinect, Leap and Makey Makey – (see https://sites.google.com/a/bridge21.ie/cs-stem/game-controllers).
About the organiser
Bridge21 are proud to offer several innovative computing workshops for teachers and educators. After participation in the workshops (details below), participants will have developed a number of new technical skills and will be confident planning activities involving digital media production, programming and computational thinking. The workshops will also be useful for educators and mentors who are  engaged in informal education through Club-houses, CoderDojo, TechSpace and other similar youth programmes.
All of the sessions are hands-on in nature and are delivered using the Bridge21 learning model. Most workshops will take place in Trinity College Dublin, and selected workshops will take place in our purpose-designed learning space in Oriel House, Fenian Street, Dublin 2, which is located just off the main Trinity College Dublin campus – (see map here). Others will be run at Google Buildings in Grand Canal Dock. The workshops are subject to availability of resources and sufficient demand.
If you have any queries or if you'd just like to be kept up to date about what's going on, please email jake at bridge21.ie. To be added to our mailing list, simply email optin@bridge21.ie.