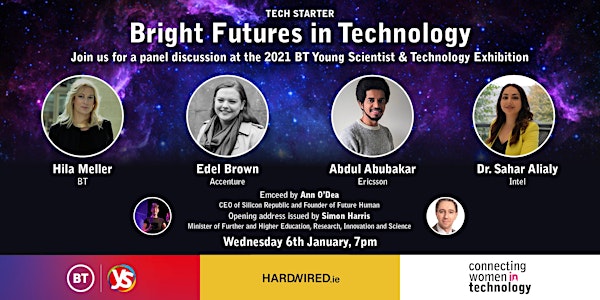 Bright Futures in Technology: Tech Starter at the BTYSTE
Bright Futures in Technology: Tech Starter at the 2021 BT Young Scientist & Technology Exhibition
About this event
Join us at the first ever virtual BT Young Scientist & Technology Exhibition (BTYSTE) this January at Tech Starter; Bright Futures in Technology.
The event will be formally opened by Simon Harris, Minister for Further and Higher Education, Research, Innovation and Science.
View event recording during the month of January on the BTYSTE Portal HERE!
You will be hearing from some of the best and brightest in the industry, who are building a better future for our world through their passion for innovation and technology. Our excellent panel of change makers will share their journeys into tech and showcase what it's like in a career with endless possibilities! Our panel of special guests include a previous BTYSTE winner and other Alumni, entrepreneurs and problem solvers who have made their mark in the tech industry.They will share their successes, learnings and advice to get you started with your future in tech.
Our panel will consist of:
Hila Meller: Vice President Security, Europe, BT Global.
Edel Browne: Business and Technology Analyst at Accenture, BTYSTE Alumni, Founder of Free Feet Medical, and featured on Forbes 30 Under 30 in 2019.
Abdul Abubakar: Software Engineer at Ericsson and BTYSTE & European Contest for Young Scientists Winner 2007.
Dr. Sahar Alialy: Operations Manager at Intel, Postdoctoral Research Fellow at Trinity College Dublin on Neuromorphic Computing, and recipient of Marie Curie Seal of Excellence Award 2017.
Our event will be emceed by Ann O'Dea, CEO of Silicon Republic, Founder of Future Human, and winner of the Outstanding Contribution to the Digital Sector award 2018.
The opening address will be issued by Simon Harris, Minister for Further and Higher Education, Research, Innovation and Science
For the first time in its 57-year history, BTYSTE made the spectacular pivot to go fully virtual in January 2021, to continue to provide young people with an opportunity to showcase their STEM ideas for creating a better future. The BTYSTE helps foster a greater appreciation for scientific and technological innovation. BTYSTE is renowned for giving future innovators, leaders and change-makers a platform upon which to shine on a national, and now an international level. BT has designed and built a new portal for the 2021 exhibition that is free to access for guests. You can register to attend the three-day exhibition here, and make sure to visit the CWIT stand.