About this Event
Open to all, 'Bring to the Table' invites attendees to share and discuss global hunger, food sustainability and nutrition concerns with an expert panel over a unique, three-course dinner. Each course will be prepared using ingredients available in either a developing country, Zimbabwe, a refugee camp or sustainable Irish foods.
The expert panel includes sustainability chef; Conor Spacey, cookery author; Roz Purcell, Zimbabwean farmer; Elizabeth Gwewo, activist; Ellie Kisyombe and World Vision Ireland's Programmes Director; Maurice Sadlier.
'Bring to the Table' promises to empower attendees to work towards a sustainable, hunger-free world.
This event is supported by Irish Aid and is part of World Vision's HungerFree campaign on ending Global Hunger.
All ticket proceeds go towards covering ingredient costs.
842 million people worldwide are hungry with 827 million of these living in developing countries. World Vision Ireland believes that a HungerFree world is possible: do you?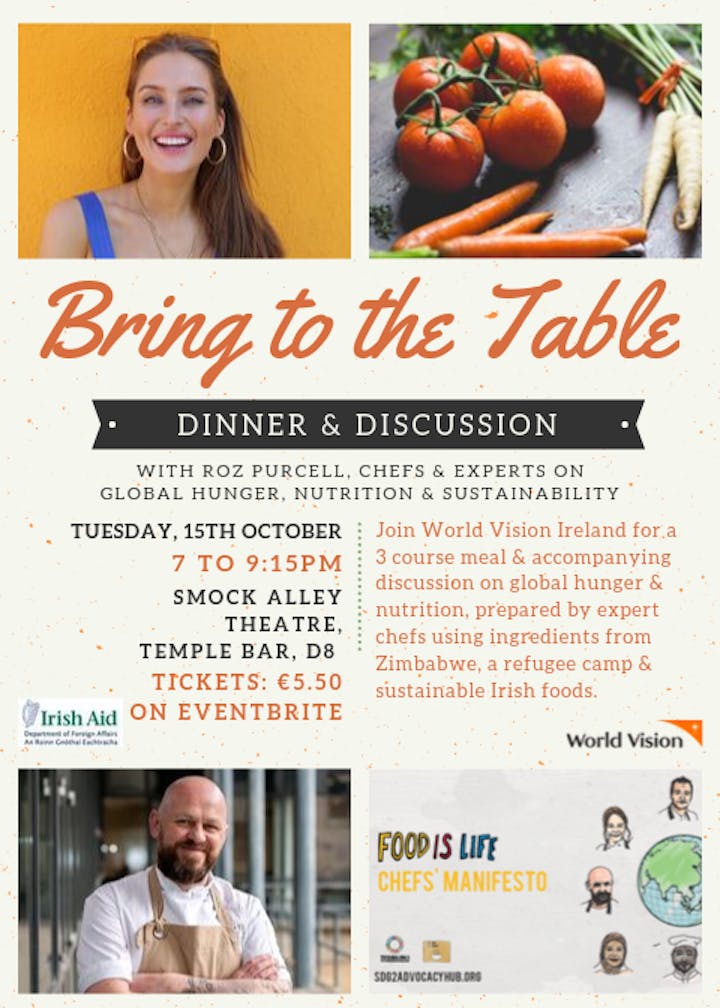 'Bring to the Table': in collaboration with Conor Spacey, Culinary Director of Food Space; a workshop with students from the UCD Food Society will be held during dinner preparation, to explore Global Hunger and Nutrition issues represented by each dish, tasking students to improve the nutritional value of the meal and thus, recommend solutions.