BUCANIER Closing Event - A Celebration of the BUCANIER Project 2017-2021
About this Event
We are delighted to invite you to attend the Closing Event of the BUCANIER Project on 27th January 2021, from 14:30 to 16:00. This will be a celebration of what we have all achieved together from 2017-2021.
The Closing Event will bring together partners, participants, mentors and stakeholders to share in the success of the project and the businesses it supports. We hope you can attend!
During our on-line event, we will be joined by guest speakers and will showcase 9 Success Story Videos from our SME Participants in Wales and Ireland and our Legacy Video summarising the whole project.
Agenda to follow shortly.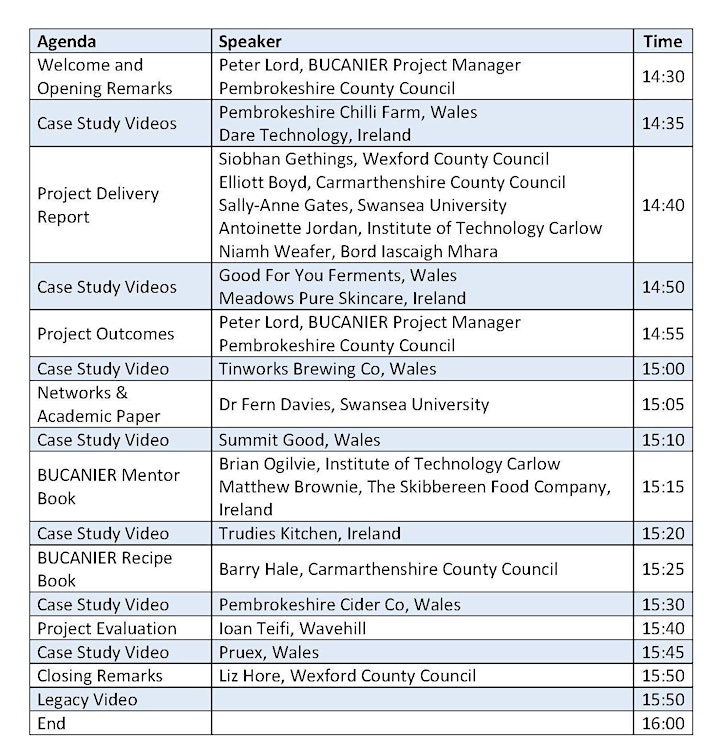 Rydym yn falch iawn o'ch gwahodd i ddod i Ddigwyddiad Terfynu Prosiect BUCANIER ar 27 Ionawr 2021, rhwng 2.30pm a 4.00pm. Bydd y Digwyddiad Terfynu yn dod â phartneriaid, cyfranogwyr, mentoriaid a rhanddeiliaid ynghyd i rannu llwyddiant y prosiect a'r busnesau y mae wedi eu cefnogi. Bydd y digwyddiad hwn yn ddathliad o'r hyn yr ydym i gyd wedi'i gyflawni gyda'n gilydd rhwng 2017 a 2021.
Gobeithio y gallwch chi fod yn bresennol!
Yn ystod ein digwyddiad ar-lein, bydd siaradwyr gwadd yn ymuno â ni a byddwn yn arddangos amrywiaeth o fideos am straeon o lwyddiant gan ein Cyfranogwyr Busnesau Bach a Chanolig yng Nghymru ac Iwerddon, yn ogystal â'n FIDEO ETIFEDDIAETH, sy'n crynhoi'r prosiect cyfan.