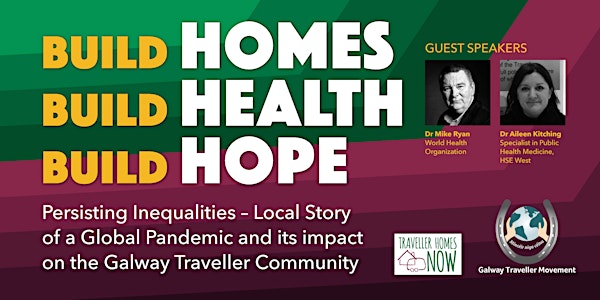 Build Homes, Build Health, Build Hope - Local Story of a Global Pandemic
Presentations & discussion of the impact of key social determinants on the lives of the Traveller community following the global pandemic.
About this event
Covid-19 has had a devastating and disproportionate impact on the most vulnerable and disadvantaged communities at a local, national and global level. Health, wellbeing and health outcomes are not determined by medical factors alone. Research shows that good health and wellbeing is far more dependent on critical non-medical factors called social determinants, which include income, social protection, housing/accommodation, employment, education and discrimination/racism.
The Galway Traveller Movement (GTM) will be joined by two outstanding keynote speakers: Dr. Michael Ryan, Executive Director, WHO Health Emergencies Programme who has been at the forefront of managing acute risks to global health including Covid-19; and Dr. Aileen Kitching, Consultant in Public Health for the Galway area who has been instrumental in coordinating the local response to meeting the Traveller community's needs arising from COVID-19. They will discuss the impact of key social determinants of health on local and global communities. GTM, in collaboration with the Galway Traveller Community, will share their experiences of living with the Covid 19 Pandemic and its long term consequences.
Galway Traveller Movement invites you to a stark presentation and discussion about the impact of key social determinants on the lives of the Traveller community, including the lack of adequate accommodation which is a basic human right. These issues must be addressed urgently by political leaders in order to ensure a future that redresses the wrongs of the past. This would help build a more inclusive society that delivers on equality and human rights outcomes for the Traveller community.
This event is part of the #TravellerHomesNow campaign.