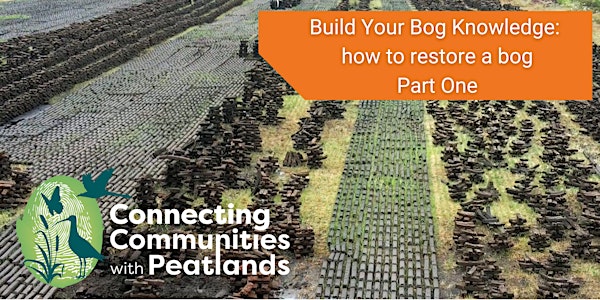 Build Your Bog Knowledge: How to Restore a Bog...Part One
Connecting Communities with Peatlands hosts a FREE talk to help build the public's understanding of bog restoration
When and where
Location
Clara Bog Visitor Centre Clara Bog Visitor Centre Clara Ireland
About this event
Connecting Communities with Peatlands is delighted to host this seminar with the aim of supporting peatland communities in the Midlands to build on their knowledge, understanding, and engagement with peat bogs. This talk is part one of two seminars focused on the practicalities of bog restoration, the does and don'ts, and what restoration means for our environment and communities.
Bog restoration has been ongoing for a number of years in Ireland, but since the cessation of peat harvesting, there is a lot more of it happening. Some restoration work is being carried out by the state and Bord na Móna, but there are a number of community and farmer-led projects as well. In this talk, we'll learn about bog restoration projects, how to begin such a project and what you have to consider. Our contributors will talk about the hydrological and ecological aspects that are so important in bog restoration.
Scientific phrases and terminology can be off-putting and make us feel like we don't belong in these kinds of conversations but in fact, the opposite is true. We aim to make learning about peatland restoration easy to understand.
It's a safe space to learn with a range of contributors: researchers, community groups, educators, and professionals. There is no such thing as a stupid question - you can guarantee someone else wants to ask the same question you're thinking!
We have three speakers lined up for part one of this seminar. Participants will be able to ask questions and interact with our speakers.