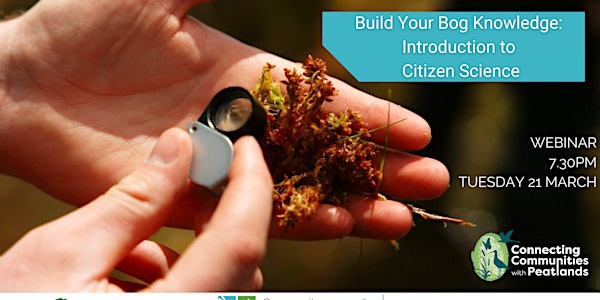 Build Your Bog Knowledge: Introduction to Citizen Science
New to citizen science? Learn everything you need to know about citizen science-led recording at this webinar!
By Connecting Communities with Peatlands
Date and time
Tue, 21 Mar 2023 12:30 - 13:30 PDT
About this event
This webinar will focus on the role of the National Biodiversity Data Centre, the recording and monitoring initiatives it coordinates and the importance of citizen science-led biological recording.
Our contributor for this webinar is Oisín Duffy. Oisín is the Survey and Records Officer with the National Biodiversity Data Centre. and has responsibility for the management of Ireland's Citizen Science Portal and overseeing the delivery of the Data Centre's data validation processes with partners. He provides active support to the recording network to improve the quality and quantity of data submitted. He also leads the Centre's work on the development of new surveys to address existing knowledge gaps.