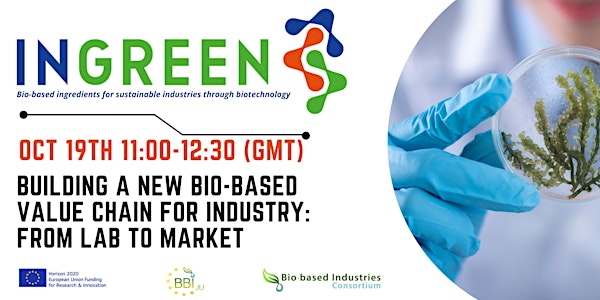 Building a New Biobased Value Chain for Industry: From Lab to Market
INGREEN is an EU-funded project designed to develop bio-based ingredients for sustainable industries through biotechnology.
About this event
In conjunction with Bioeconomy Ireland Week 2021, Munster Technological University and the Circular Bioeconomy Research Group present this INGREEN session where we explore the key learnings from industry and research experts on the developing of new functional innovative ingredients from whey side streams for pharmaceuticals, cosmetics and the food industry. The event aims to investigate the entire value chain from the initial business challenge to side stream valorisation (LBA, GOS) highlighting state of art biotechnologies and development of lab to demo scale bio-based ingredient production. We analyse how biotech commercialisation impacts processing, cost efficiencies and simultaneously creates intellectual property opportunities and new product development capabilities for industry to exploit. The guest speakers and live panel will examine the value proposition and market demand for bioproducts and consider how current and future research and investment is influencing biotech innovation, business customer relationships and consumer demands.
This event is the first in the INGREEN series and will showcase presentations from the INGREEN project scientific coordinators at the University of Bologna and consortium partners Mambelli , Activatec, FHNW and Depofarma . We take you on a journey from initial identification of a whey waste to value opportunity, the process of validating and prototyping of high value bioactives, through to the creation of a scalable and sustainable waste to value chain solution for the cosmetics industry.
The INGREEN consortium consists of four research and innovation partners, four large enterprises, eight small and medium-sized enterprises and a membership organization. Our 17 partners are located in ten countries throughout Europe, namely: Belgium, France, Germany, Italy, Ireland, The Netherlands, Portugal, Spain, Switzerland, and the United Kingdom
INGREEN works in partnership with a number of organisations from the agricultural, food and industrial sectors to create the market introduction of innovative bio-based processes and bioproducts.
https://ingreenproject.eu/
Project technical details:
Start date: 1 June 2019
Duration: 3.5 years
Call: H2020-BBI-JTI-2018
Coordinator: INEUVO Ltd
Scientific coordinator: University of Bologna