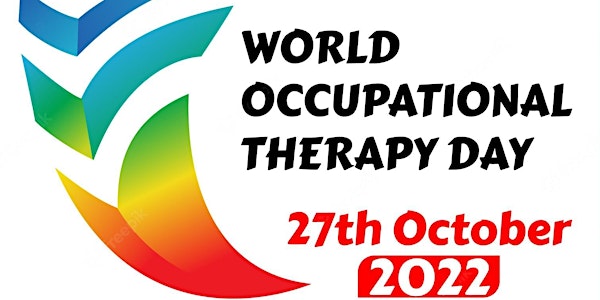 Building & Broadening OT in the South East: Networks, Innovations and Best
Building & Broadening OT in the South East; Networks, Innovations & Best Practice is a conference being arranged for OT's in the South East.
When and where
Location
Greenway Manor Hotel, Co. Waterford Old Kilmeaden Road X91 X4RP Kilotteran Ireland
About this event
The South East OT conference will be held on the 27th of October (World OT Day)!! This will be an exciting networking opportunity and will allow therapists to share innovative projects, ideas and best practice guidelines across all OT services. Please see below an outline of confirmed presenters for the day;
Waterford Paediatrics- Sinead Ni Fhaolain
"Unlocking childrens' potential: The application of the three tiered model in a new primary care Paediatric Occupational Therapy service - A pilot study. This presentation will focus on the application of this model in practice, preliminary results, findings and reflections will be discussed".
Carlow/ Kilkenny PCCC- Nicola Philips
"The RAPOD (Rapid Access to Physio, OT and Dietetics) project is a joint initiative between Occupational Therapy(OT), Physiotherapy (PT) and dietetics. The aim of the project was to provide faster access to OT and PT joint assessments for clients in the community with significant deterioration in mobility and function and at risk of hospital admission. Joint working, early intervention and allied health collaboration are well documented in the evidence base to enhance client experience and outcomes. This presentation aims to communicate the findings and share learning from our service initiative to the wider Occupational Therapy network".
University Hospital Waterford- Home First Team – Megan Walsh
Homefirst is a reablement service based in University Hospital Waterford. The aim of this evaluation was to measure patient experience of returning to occupation post hospital discharge with Homefirst Occupational Therapy (OT) support. This evaluation also measures outcomes of OT intervention, joint public health nurses intervention, potential discharges from Community OT waiting lists and patient readmission rates to acute hospital care over a 3 month period in 2022.
South East Practice Education Team – Anne Marie Norris & Caroline Booth
"A review of CPD Opportunities with regard to Student Facilitation and a spotlight on student participation in quality initiative projects and overall service development while on placement"
Wexford General Hospital- Stroke Audit- Breda Corcoran
"Is the OT Service in WGH screening for visual deficits in patients with a confirmed stroke in line with best practice?" An audit and report on findings for completion of visual screens in confirmed stroke patients from the period 1st June to 1st September.
Wexford Mental Health Services OT Department- Sensory Trails
The Wexford Mental Health OT dept in conjunction with LINK Training and the Wexford Mental Health Association will present on a new group programme initiative "Sensory Trails". We will provide an overview of the programme from an identified need within our client group through the various stages of development including resourcing and key partnerships, to ensure the delivery of a 9 week group programme comprising 3 Psycho-Education workshops, and 6 outdoor immersive nature experiences that supports self-awareness and sensory strategies for regulation.
Wexford Mental Health CAMHS service- Equine Therapy- Helen Ambrose
Equine Assisted Therapy for teenagers attending Wexford Child and Adolescent Mental Health Services – an Occupational Therapy led Partnership Programme. An overview of how we developed the programme from 1:1 sessions to a year-long fully funded programme with QQI Level 4 Awards; and the benefits of working in partnership with external agencies as an OT working solo on a team.
South East Palliative Care Centre- Karen Battye
"A brief overview of the role of the Occupational Therapy service within the SEPCC, from referral to intervention planning within palliative care"
St. Luke's General Hospital- Creating dementia friendly Emergency Department (ED) cubicles through SPARK funding- Gemma Horan & Marie Meaney
One third of patients over 70 and presenting to Ireland's EDs, have dementia. In comparison to home, ED is hectic and often lacks orientation cues, sufficient signage and appropriate aids to facilitate engagement in ADLs. These factors mean that persons with dementia are at much higher risk of adverse outcomes such as acute confusion, functional decline, falls and pressure sores. What if we could create an environment in ED that would improve the orientation of patients with dementia and enable them to complete ADLs? This presentation aims to provide an overview of the process of securing SPARK funding to create dementia friendly ED cubicles in St. Luke's Hospital.