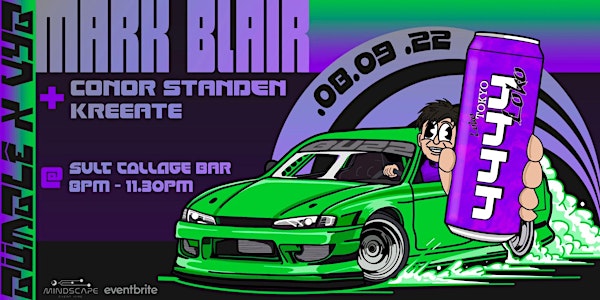 Bümble & Vyb: Mark Blair
Bümblê x Vyb presents: Mark Blair Conor Standen KREEATE
When and where
Location
Sult (Café, Bar, Restaurant, Venue) NUIG H91 RTR6 Galway Ireland
About this event
Starting the College Year the Popper way by bringing the Biggest Buzz to Date for Freshers
🐝
Mark Blair:
Carving out a solid reputation as one of the UK and Ireland's most exciting and dependable acts,DJ and Producer Mark Blair has gone from strength to strength in recent years. With a consistent stream of club ready hits and international parties building him a strong following and promising much more to come.
In DJ sets, Mark has curated a unique style of club-ready House music, with tinges of grime & hip hop, aimed squarely at the dance floor and eliciting strong reactions from audiences. After cutting his teeth at underground parties and illegal raves in Belfast, word soon began to spread and Mark became a regular fixture in the Ireland and the UK club circuit. Recent tours bringing him across Europe, Australia and America, including shows at such iconic institutions as Subclub in Glasgow and the Bossa Nova Civic Club in New York, has shown that his rapidly growing fanbase continues
to expand !
With millions of plays across Spotify, Soundcloud and YouTube, Mark's productions can be found in heavy rotation across the internet and in DJ sets around the world. With a number of releases set for the next year, and a schedule including shows in as Lyon, Madrid, Los Angeles, and many more, Mark continues an upward trajectory that shows no signs of stopping.
Few of of his tasty tunes below
https://soundcloud.app.goo.gl/xsj68Tyxg5wqgo2u6
https://soundcloud.app.goo.gl/wEdxotNYgUyEyZKH9
https://soundcloud.app.goo.gl/W4XaUnrVmwNVx7JX8
https://soundcloud.app.goo.gl/HfPMMXa8pB3PiPoTA
Conor Standen:
Inspired by the electric underground scene in Limerick, Conor became fascinated with heavy techno music and the energy it emits to a crowd. Featuring in events hosted by the renowned Touch of Techno, supporting acts such as Tommy Holohan and Shampain and running events in Pharmacia, Conor became obsessed with production and performance. His set will be comprised of rough and melodic patterns that are heavy hitting and fast paced and when combined, brings the room to life.
See what he about below
https://soundcloud.app.goo.gl/RCPK8SnrYqUEG3FQA
https://soundcloud.app.goo.gl/hCZpNZeVJeYS1Wps6
https://soundcloud.app.goo.gl/KuTUk7KmibVX5MUJ8
KREEATE:
A 23 year old producer & DJ from Limerick Ireland. He explores various different styles of techno in his productions with his latest unreleased tracks gaining recognition from artists such as Patrick topping and more.
Listen his tracks below
https://soundcloud.app.goo.gl/xxSBZDnrQeRAjrfd8
https://soundcloud.app.goo.gl/WwRDQtYSa6BRxWWC6
This event is not to be missed!
Get your tickets quick fast xo