Description
he All-Ireland Business Foundation is the national body responsible for accrediting best-in-class Irish businesses as Business All-Stars, overseeing the All-Ireland Business Summit, Summit and promoting peer dialogue among members.
The All-Ireland Business Foundation's next TRIBE Gathering and Gold Medal Accreditation Ceremony will be taking place on March 12th at Croke Park.
The TRIBE will gather to network and welcome newly All-Star Accredited Businesses while enjoying a nice lunch. It's a great opportunity to meet and network with your peers and the Owners / CEO's of some of Ireland's finest businesses!
---
Charity Partner: Barretstown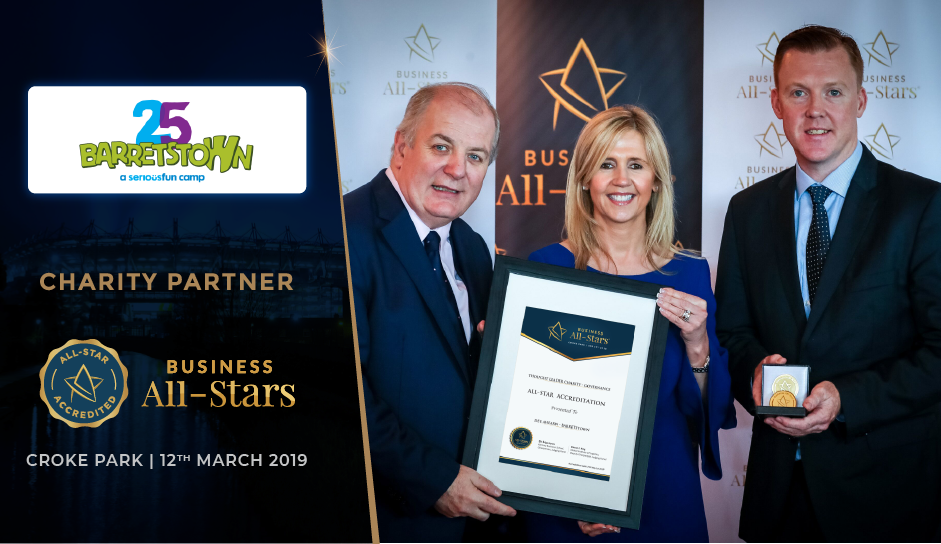 Barretstown, one of Ireland's most unique children's charities. Barretstown offers specially designed residential and outreach programmes for children and their families living with a serious illness.
---
AGENDA
Date: Tuesday 12th March | Venue: Cusack Suite, Croke Park
Car Park: Complimentary car parking is available in the Cusack Car Park and this is located off Clonliffe Road and accessed via St Joseph's Avenue.
Agenda for the day is divided into two parts. The first half (from 9.30am-2pm) of the day is aimed at presentation of Business All-Star Accreditation to newly accredited companies.
The second half of the day (from 2pm-4pm) is aimed at TRIBE networking. For the tickets, you have the option to book for the full day (discounted for All-Star TRIBE) or attend post lunch TRIBE networking which is complimentary for the All-Star TRIBE members.
AGENDA - ACCREDITATION CEREMONY (From 09.00am-1.30pm)
08:30am-09:30am: Registration
09:30am: Opening Welcome - Elaine Carroll, CEO - All-Ireland Business Foundation
09:45am: Address by Dr. Briga Hynes, Kemmy Business School, UL & Chair of the All-Ireland Business Awards
10.00am: Address by Mary Mitchell O'Connor, Minister of State for Higher Education
10.10am: Presentation of Business All-Star Accreditation to newly accredited companies. Each participant will be profiled and introduced to the congregation by Kieran Ring, Deputy Chair of the Business All-Star Accreditation Programme
12.30pm-12.45pm: Dee Ahern– Chief Executive Officer, Barretstown
12.45pm-01.30pm: Business Lunch
----------------------------
AGENDA - POST LUNCH TRIBE GATHERING & NETWORKING (From 02.00pm-04.00pm)
02:00pm: Registration for the afternoon session
02.30pm-04.00pm: TRIBE Networking
----------------------