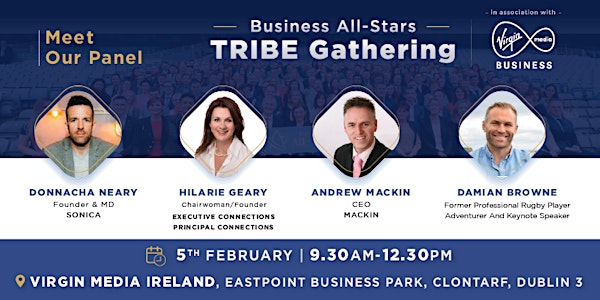 Business All-Stars TRIBE Gathering in association with Virgin Media
Location
Ireland
Virgin Media Ireland Limited
Building P2, EastPoint Business Park
Clontarf, Dublin3
Ireland
Description
About TRIBE Gathering
Join us at February TRIBE Gathering in association with Virgin Media Business - where we'll be sharing actionable insights that will help you overcome challenges and continue the success that you've been achieving.
These gatherings will also facilitate networking and collaboration among the AIBF Business All-Star TRIBE and supporters.
WHO THE TRIBE GATHERINGS ARE FOR
Tribe gatherings are primarily for our accredited Business All-Stars and AIBF supporters.
Occasionally we open up some spots to businesses who are not yet accredited.
If you're the owner/director of a progressive and established business in Ireland then you can book the general admission ticket. We would love to have you at one of our gatherings. Please note places are limited and allocated on a first-come-first-served basis.
WHO THE TRIBE GATHERINGS ARE NOT FOR
If you're brand new in business with little to no sales track record or a part-time business owner possibly in network marketing, MLM, or are just running a side project our tribe gatherings are not suitable for you at this time.
---
Logistics
Date & Time: Wednesday, 5th February, 09.30-12.30
Venue: Virgin Media Ireland, Building P2, EastPoint Business Park, Clontarf, Dublin 3
Parking: There is no parking available at Virgin Media Business HQ. Virgin Media have kindly offered to run a complimentary private shuttle bus from the nearby The Point Square Car Park for anyone who wishes to avail. Please see further details below​:​
​09.20: Car Parking The Point Square Car Park
​​09.30: Coach to leave Car Park for Virgin Media Business, Eastpoint
09​.​40: Coach Arrive To Eastpoint Meeting Venue
9.45-10.15: Refreshments & TRIBE Networking
10.15: Opening - Elaine Carroll, CEO - AIBF
10.20: Welcome - Aidan D'Arcy, Director of Business - Virgin Media Business
10.30-11.15: Panel #LessonsInBusiness & Q&A - Kapil Khanna, Managing Director - AIBF
Panel joined by Donnacha Neary, Founder & MD - Sonica, Hilarie Geary​, ​Chairwoman/Founder​ - ​Executive Connections & Principle Connections, Andrew Mackin, CEO - Mackin
11​.​15-12.00: Facilitated Networking - Elaine Carroll
12.00-12.30: Damien Browne in conversation with Elaine Carroll
12.30 - Closing - Elaine Carroll

​
Q&A Panel, #LessonsInBusiness: We will extract some key insights and strategies from those that have achieved success.
SPEAKERS
Donnacha Neary:
Donnacha Neary is the founder and Managing Director of Sonica.
Formed in 2013, the ​c​ompany has grown to become one of the most innovative and trusted voices in the Irish commercial interior fit-out market with a portfolio of past projects that extends into the millions of square feet completed for many of the worlds biggest companies.
Hilarie Geary:
Hilarie Geary is the Chairwoman/Founder of both Executive Connections & Principal Connections.
Executive Connections is an award-winning specialist Financial Recruitment Firm founded by Hilarie Geary in 1991. Since then, the company has emerged as leaders in each of its specialist divisions. With a staff of 25, they are one of the most experienced and best resourced specialist recruitment consultancies in Ireland. They support and construct, in line with their clients' strategies, robust workforce and succession planning programs and have the capacity to scale up to manage large contingent recruitment projects.
Andrew Mackin:
Andrew Mackin is the CEO of Mackin.
Andy holds a Diploma in Health and Safety from University College Cork; a Certificate in Training and Education from NUI Galway, and has over twenty years experience in the field of Environmental Health and Safety.

As Managing Director of Mackin, he has responsibility for the day to day operations of the organisation, and also works with many and varied clients across all sectors in Ireland, the UK, Europe and the US.

Originally hailing from Dundalk, Andy has been in Cork since 1985. He served for 21 years as a member of the Irish Naval Service and, during this time, qualified as an electrician. It was here that he gained his initial experience with risk management and developed his appreciation of Environmental Health and Safety.
Andy has helped lead his team and the company to some great awards over the past few years most notably winner of the Best International Company 2019 at the All-Star All-Ireland Business Awards held in Dublin.
​Damian Browne Keynote Speaker
Damian Browne is a former professional rugby player, adventurer and keynote speaker hailing from Galway.
A long and fruitful sixteen-year career battling on the rugby pitches of The Celtic League, English Premiership and French Top 14 Championship, saw Damian achieve many honours including winning the 2012/13 Heineken Cup with Leinster Rugby.
During his downtime from the intensity of professional sports, Damian indulged his passion for travel and adventure, visiting more than 60 countries on 6 continents and challenging himself in a different way with a three-week expedition into the high altitude Pamir mountains in Afghanistan, summiting Kilimanjaro in Tanzania, climbing Mont Blanc, France and Gran Paradiso, Italy.
In April 2016 Damian took on the might of the Sahara desert, completing the 6 day, 257 km Marathon des Sables, also known as 'The Toughest Footrace on Earth', carrying everything he needed to survive on his back from the start of an unforgettable journey through the Moroccan Sahara.
After the race and a period of reflection, Damian committed to taking on the incredible challenge to row across the Atlantic Ocean, alone!18 months of physical, mental and technical preparation led to the 14th of December 2017, where Damian kissed goodbye to his parents and shoved off into the unknown.
63 days 6 hours and 25 minutes later he crossed the finish line of the Talisker Whiskey Atlantic Challenge arriving in Antigua some 28kgs lighter, to a hero's welcome. Having endured 9 meter swells, a badly cut head, capsizes, encounters with Whales, sea & pressure sores, losing an oar and complete steering failure with still over 2000 nautical miles to go to Antigua, Damian said, "A hell of an experience, hell of an adventure and a hell of a challenge. It was exactly what I wanted from the challenge, I wanted to be pushed to my limits mentally and physically and I got exactly what I wanted."I'm on a mission to live an extraordinary life. A life full of challenges, extremes, learning, risk, growth, fulfilment and actions. A life of integrity, sincerity and courage. My life will be my masterpiece"
GETTING TO VIRGIN MEDIA BUSINESS, EASTPOINT BUSINESS PARK
BY CAR TO POINT SQUARE CAR PARK
There are a limited number of spaces for parking available in the business park and these are typically reserved for staff of the business park. With this in mind, we would recommend that you park in the Point Square Car Park where Virgin Media Business has arranged for a private shuttle bus to take you from the car park directly to venue Eastpoint (3 Mins Drive).
The shuttle bus will be at the car park from 9.15 am and will leave at 9.30 am for Virgin Media Business Eastpoint.
The Point Square Car Park is accessed from Sheriff Street Upper. Location Link is HERE
BY PUBLIC TRANSPORT TO EASTPOINT BUSINESS PARK
Location: Virgin Media Ireland, Building P2, EastPoint Business Park, Clontarf, Dublin 3
LUAS, DART & TRAIN
Served by excellent transport links, the Point LUAS station on the red line and Clontarf DART station are only a 10 minute walk away.
Click here for the LUAS timetable
Click here for the DART timetable
However, if you don't fancy the short stroll, the free EastPoint shuttle bus can pick you up from either station and drop you to your office door! Further information on either bus route is available here on the left.
EASTPOINT SHUTTLE BUS
The EastPoint Shuttle bus has two routes servicing Clontarf Road Dart Station and the Point Luas stop. There is no charge to use the shuttle bus. Full details on the bus service can be found here:
Shuttle Bus Operating Times - DART & LUAS
Clontarf Road DART Station - EastPoint Bus Service
Point Luas & Docklands Train - EastPoint Bus Service
BUS
There are also many options if you are travelling by bus. Any bus which passes through Fairview (you can see all routes by clicking on the link below) can drop passengers off at Marino Tech and from there they can walk 2 minutes to the Dart station and hop on the EastPoint shuttle bus to the park.
The 130 from Lower Abbey Street can drop passengers off on the Clontarf road and from there EastPoint employees can walk up the Alfie Byrne road straight to the park (time table and map below). Dublin Bus Route 130 Timetable Map