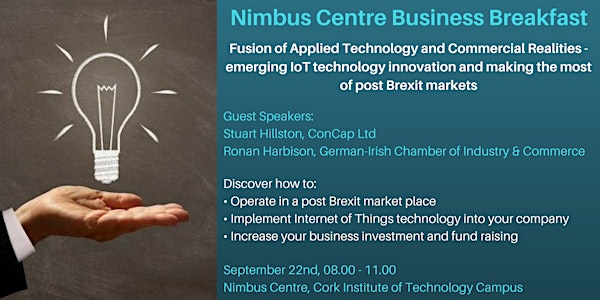 Business Breakfast: Applied Technology in IoT & Commercial Realities
When and where
Location
Nimbus Centre Cork Institute of Technology Cork Ireland
Description
The Nimbus Centre invites you to join us for a business breakfast where experts will discuss the commercial realities of a post Brexit market place, and how technology in IoT and cyber physical system innovation can progress your business. Our speakers will also offer advice on investment and fund raising.

Guest speakers:
Stuart Hillston - Funding and Start-up Expert, ConCap Ltd
This fast paced event is centred on overcoming key challenges for industry, and will offer guidance and information on new business opportunities. Explore the exceptional innovation supports available at Nimbus Centre and network with industry experts. Those interested can enjoy a tour of Nimbus Centre and see exciting Internet of Things demonstrations.
This event is open to all, whether that be individuals with an idea, start-ups, SMEs, large multi-nationals, investors and government agencies.
The TEC Gateway is the industry division of Nimbus Centre and is one of Enterprise Ireland's Technology Gateways. The TEC Gateway completes 60+ industry projects a year, with a turnover of €4.5M per annum.