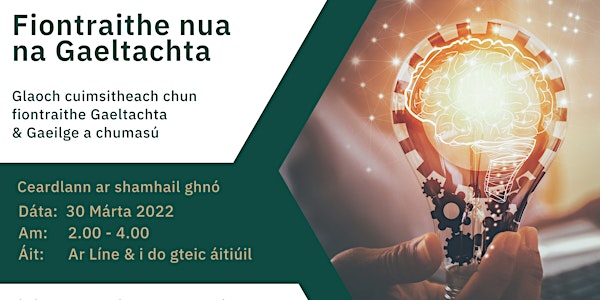 Business Canvas Model Workshop
Business Canvas Model Workshop
About this event
Beidh an cheardlann seo á stiúradh ag Ailish Irvine, ó Irvine Training, Comhairleoir Gnó agus Traenálaí.
Dírithe ar úinéirí agus bainisteoirí Gnó, áireofar sa cheardlann seo meascán tascanna agus cur i láthair le neart deiseanna ceisteanna a chur.
Beidh an ceardlann 2 uair ar líne seo go dtuigeann rannpháirtithe an Canbhás Samhail Gnó.
• Tairiscintí sárluacha a thógáil
• Príomhchodanna den mhargadh custaiméirí a aithint
• Poist, pianta agus gnóthachain do chustaiméirí a thuiscint
• An bealach ceart custaiméara a roghnú le haghaidh do tháirge agus do thionscal
• An leibhéal ceart caidrimh a choinneáil lenár gcustaiméirí
• Na príomh-acmhainní agus gníomhaíochtaí a bhfuil gá leo chun tacú lenár múnla gnó a leagan amach
• Anailís a dhéanamh ar na buntáistí agus na míbhuntáistí a bhaineann le deiseanna comhpháirtíochta éagsúla
• Struchtúir chostais éagsúla a chur i bhfeidhm
The workshop will be led by Ailish Irvine, of Irvine Training, a Business Consultant and Trainer.
Aimed at Business owners and managers, this workshop will include a mix of tasks and presentations with plenty of opportunities to ask questions.
This 2 hour online workshops will ensure participants understand the Business Model Canvas.
• Building great value propositions
• Identifying key customer market segments
• Understanding your customers jobs, pains, and gains
• Picking the right customer channel for your product and industry
• Maintaining the right level of relationships with our customers
• Mapping out the key resources and activities needed to support our business model
• Analysing the pros and cons of different partnership opportunities
• Applying different cost structures