By Endurance We Conquer Book Binding workshop with a taste of screenprinting and letterpress.
About this event
By Endurance we conquer, the Shackleton family motto and a great motto for 2022! In the historic, beautiful ambience of the Tanyard, Ballitore, we bind our own journeys by making our own books.
A one day book-binding with a little hint of screen-printing and letterpress printing if desired, with Angelina Foster. Angelina will guide you to bind your own fabric clothed journal and screen print the Shackleton motto "By Endurance we conquer" in English and Latin "Fortitudine Vincimus" on the front cover.
With a choice of artist and writing paper, your book is a step in your own story. You will also bind a small single signature soft cover notebook, using a choice of naturally dyed botanical covers or feel free to bring your own artwork. There is something very special about binding your own sketchbook, notebook or diary. If you keep a diary, like to write or sketch this is a perfect way to connect with your thoughts.
The Tanyard is located in the shadow of Mary Leadbetter's house (now the library and Quaker Museum). Mary Leadbetter (née Shackleton) was an Irish writer, poet and the first female postmaster in Ireland. "In the darkening twilight I saw a lone star hover gem-like above the bay", were last words written in his diary by Ernest Shackleton. We will draw inspiration from famous past Shackleton creatives such as Mary and her grand nephew Ernest Shackleton, who was born in nearby Kilkea.
As an artist and printmaker, I am inspired by words, stories, and symbols from Ireland's past. I share my passion for Ireland's words, heritage and culture through the designs and experiences I create. I have also completed the Fáilte Ireland safety charter Dates:
Full day - Time 10.30 – 4 pm ish
Spaces limited to just 4, physically distanced, each person has a table & individual tools.
Price €75 Place: The Old Tanyard (behind Ballitore library).
All materials included (we will be using a variety of quality recycled papers, Japanese Awagami papers, lined papers, book cloth, waxed thread, non toxic screen printing inks & screens) Tea, coffee, biccies included.
Please note attendees will be required to show proof of vaccination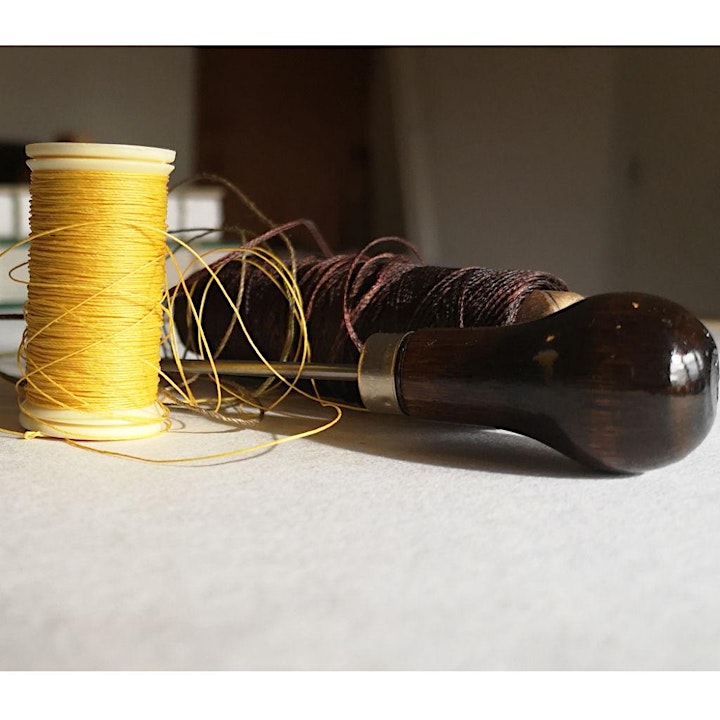 Organiser of By Endurance We Conquer Bookbinding Workshop
Angelina Foster is a heritage artist, based in Co. Kildare, who enjoys working through drawing, calligraphy, photography, and screen printing.  Her practice explores connections in art, nature, Irish heritage stories and the power of language. She has her own range of Irish heritage products, clothing and accessories and is available for collaboration in the corporate and private sector. Angelina is a member of Blackstack Studio in Kilkenny, DCCOI and VAI.
More details available on https://www.angelinafosterstudio.com/