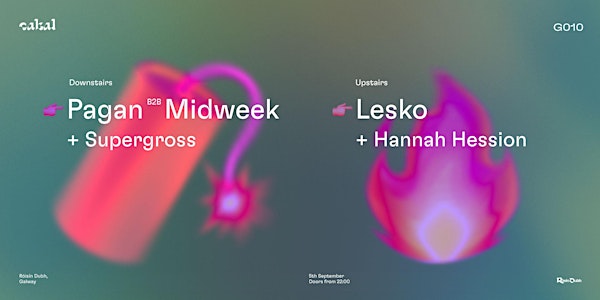 Cabal G010 w/ Pagan B2B Midweek, Lesko, Hannah Hession & Supergross
On the 5th of September we are bringing Pagan B2B Midweek, Lesko, Hannah Hession & Supergross to the Roisin Dubh to kick of the season!
When and where
Location
Róisín Dubh 8 Dominick Street Upper H91 N4AP Galway Ireland
About this event
GALWAYYY WE ARE BACKKKKKK!!
- Pagan B2B Midweek (3 Hour Set) -
In recent years, Ireland has been a frequent source of talented young producers, and Pagan is no exception to that rule. In 2019 the artist was nominated for the AVA emerging producer of the year award, with his trance inspired breakbeat track 'Rise'. This was a massive turning point for Pagan, garnering attention within the Irish dance scene. Bookings came quickly from the point, with an array of headline gigs in quintessential Dublin & Galway nightclubs, while also making the leap onto the Festival circuit, playing Life Festival, Mass Festival, Higher Vision, and Yurt City all within the space of a year.
Midweek have been going from strength to strength since their first EP on their imprint, 2SWEET Records. The duo have graced the Life Festival mainstage, Outset Festival, Sionna Festival, as well as a host of gigs ran by themselves in their hometown of Limerick and a residency in Club 061.
The duo who also co-run Touch Of Techno together are two of the most powerful driving forces coming out of limerick right now. The pair have been pushing the boundaries with regards to releases, mixes, playing shows and running shows, both in their own separate lanes under Shee & Chaz Moloney respectively and under their midweek alias which focuses on breaks and techno.
- Lesko -
Another big name in the undercurrent of Dublin's low end theory Lesko blends grime, dubstep and jungle seamlessly with a keen focus on maintaining energy and building big moments throughout his sets.
Having played in Wigwam, Index and most recently The Cause London's Sea Side Beano, Paddy has been sharpering his tools and we're sure he's ready to unleash them on us in Galway on September 5th.
- Hannah Hession -
A familiar face around Galway, and for a very good reason. Hannah has proven herself time & time again why she's one of the most promising selectors coming out of Galway right now. A Cabal mainstay at this stage, we just cant get enough!!!
- Supergross -
Self described as a multi-genre DJ from Éire, Supergross has proven that statement true with her mix series on Soundcloud, each one featuring an exploration into a genre. Head of the NUIG DJ Society she has been helping young DJ's come through the ranks for years. We're buzzed to see what she's gonna bring to the table for her Cabal debut.
---
Tickets go on general sale Tuesday [23.08.22] at 6.30PM. Early Access tickets will be available to subscribers of our mailing list on Sunday [21.08.22]. Subscribe here: www.cabal.ie/mailinglist & keep an eye your emails!
*We're giving away 4 Tickets for G010, all you have to do is is head over to our Instagram (@cabal.ie) for details.
D O N O T S L E E P O N T H I S