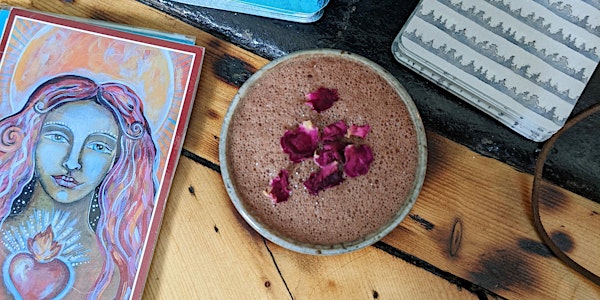 Cacao Ceremony
A monthly ritual to open your heart and rebalance your system. Join Karen Sheridan for this blissful morning!
When and where
Location
Moons YOGA Loft 24a Orchard Lane A94 YW21 Blackrock Ireland
Refund Policy
Contact the organiser to request a refund.
About this event
CACAO CEREMONY
SATURDAY SEPTEMBER 11am-1pm
MOONS YOGA LOFT, BLACKROCK, CO.DUBLIN
Join me for a morning of heart and soul connection, meditation and relaxation. Cacao will be your guide, connecting you deeply with your intuition and spirit. Meditation, gentle movement and sound will scaffold your journey to this place of inner wisdom.
What is Cacao?
I know many people are wondering about the hype Cacao is generating and why people are sitting in ceremony with it. Isn't it just hot chocolate? Trust me. I was thinking the exact same thing before I started working with it and going on to do my facilitator training with it.
While chocolate is derived from cacao, raw ceremonial grade cacao is made with integrity in Guatemala and Peru, the lands from which it comes from. It has been ethically produced by the indigenous people who have honoured it's power and sacredness for centuries. Cacao, sometimes referred to as Mama Cacao, is a gentle plant medicine that works with your consciousness almost like a gentle, nurturing hug from Mother Earth herself.
Cacao is a heart opener, both energetically and physically (it is a vasodilator), helping us to get out of our heads and into our hearts, where deeper meditation and connection with ourselves can happen with ease.
Cacao is also a superfood containing anandamide, theobromine, magnesium, iron and flavanoids. If like me, you haven't a clue what all that means, here is a breakdown of these compounds:
Anandamide
Known as the "bliss molecule", the word "Ananda" is sanskrit and means happiness. It is a cannaboid naturally produced in our bodies and improves our mood when attached to neurotransmitters with similar therapeutic effects of THC.
Theobromine
Promotes the release of dopamine bringing about feelings of arousal; with cognitive enhancement properties it improves our focus and concentration. Similar to caffeine in its mood enhancing effects, it is longer lasting (up to 7.5 hours) and much milder - it will not cause the jitters like coffee does.
Magnesium
Regulates muscle and nerve function, blood sugar levels and blood pressure, increasing the flow of healing oxygen to our organs and tissues, assisting us with balanced energy, healthy sleeping patterns and general well-being.
Flavanoids
Natural antioxidants which protect us from disease. Cacao contains 40 times more antioxidants than blueberries.
Iron
Cacao is the highest plant-based source of iron known to man, at an unbelievable 7.3mg per 100g. Compare to beef and lamb at 2.5mg, and spinach at 3.6mg.
What we will be doing?
We will be sitting in circle around an altar space, filled with oracle cards and items that will call in and symbolise different energies we can draw on for our time together. We will start by grounding down and settling into the space. We will then be drinking our cacao, sharing our intentions for the ceremony (you can share as little or as much as you like here) and this will be followed by gentle movement, meditation, sound and relaxation. Finally, we will have a chance to pull a card and journal if you feel called to do so.
What to bring?
Your favourite cup/mug
Bring layers to get cosy in meditation!
A journal to write in if you would like to as there will be time to jot down anything that came to you in meditation. This is not a requirement at all but can be nice to do as it can help you integrate your experience.
Something that is sacred to you for the altar space (this is optional!)
***Disclaimer: As cacao is a vasodilator, it is important to let me know if you are pregnant, breastfeeding, have a heart problem or if you take antidepressants. This may not be a problem as the dose can be adjusted for it to work with your body. But do get in touch with me directly on instagram: karensheridan_ or email mskarensheridan@gmail.com if this applies to you and you would like to join!
Hope to see you there!
Big love,
Karen X