Description
The next walk in our #CaminoTraining 2017 will be in Glendalough, Co. Wicklow on Saturday the 12th of August at 10am. This will give you an opportunity to meet other pilgrims and start training for your Camino.
The meeting point will be the second car park at 10am. We will have 30 minutes introduction and a short stretching session where we will give advice on what to bring with you on the day.
Book your place today for the small fee of €10 which will go to charity. The closing date for booking is the 10th August, this will guarantee that we have a permit to hike in Glendalough park.
Here is some information about the walk:
This walk follows the same route as the other Spinc trails up onto the boardwalk. It stays on this boardwalk for 1.7km before turning off in the direction of Lugduff Mountain. This Section of the trail is a good place to spot deer and birds such as Raven, Merlin and Kestrel. Finally the trail links up with the Wicklow Way track to lead you back to the Information Office.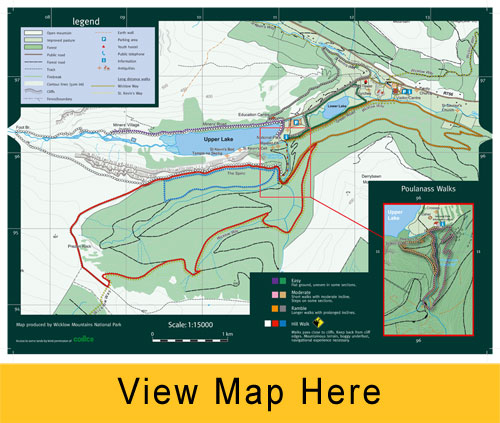 Spinc and the Wicklow Way (Red Route)

Grade: Hillwalk
Distance: 11km
Time: 4hrs
Climb: 490m
What to bring on the day:
Water and small pack lunch
Walking shoes/boots
Walking poles
Small back pack
Walk map printed
Waterproof gear (this is Ireland ;) )