Description
The next walk in our #CaminoTraining 2016 will be in Sugar Loaf, Co. Wicklow on Saturday the 10th of June at 10.30am. This will give you an opportunity to meet other pilgrims and start training for your Camino.
The meeting point for the walk is the car park of Pluck's Restaurant. You can park in the back, but make sure to turn into carpark before the roundabout at the N11 (see map below). We will start with a 30 minute introduction and gentle stretches, where we will give advice on what to bring with you on the Camino.
Book your place today for the small fee of €10 which will go to charity. The closing date for booking is the 8th June.
Here is some information about the walk:
The Sugar Loaf walk is one of the most famous hills in Ireland, especially for people from the Dublin area. It is also known as a mini Croagh Patrick. We will start the walk from the small village of Kilmacanogue on the N11 (Dublin/Wexford Road).
Despite its rock-strewn steep upper slopes, the hill is easily climbed. (Although be careful of the final 30 metre ascent). The Sugar Loaf commands fine views, especially across the coast and even the mountains of Wales are easily visible to the naked eye on a clear day. After the walk, we will meet for a chat in Pluck's pub.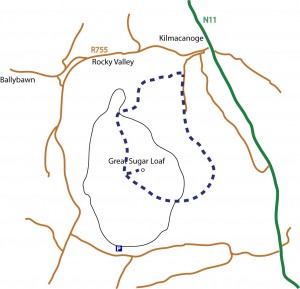 Sugar Loaf

Grade: Hillwalk
Distance: 8km
Time: 3hrs
Climb: Approx 260m
What to bring on the day:
Water
Walking shoes/boots
Walking poles (optional)
Small back pack
Waterproof gear (this is Ireland ;))


Map of Meeting Point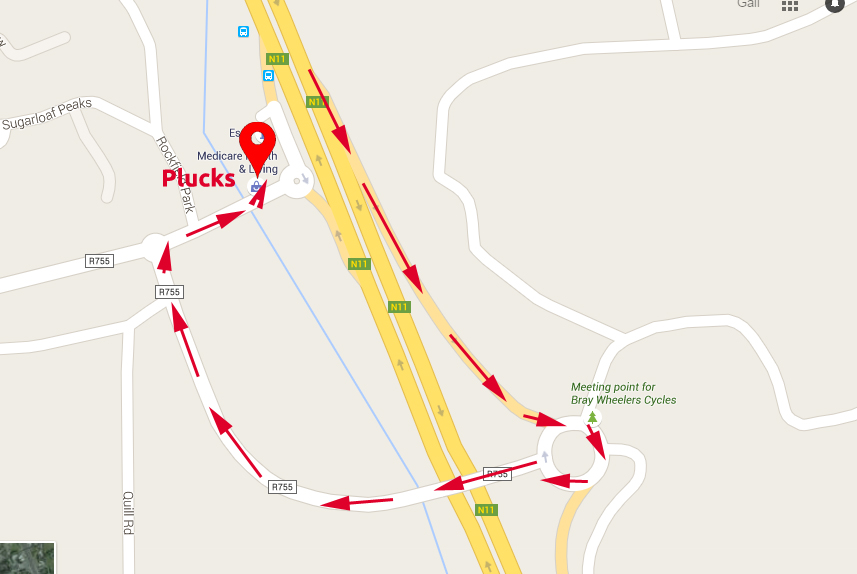 Meeting Point Car Park Entrance