An interactive Panel Discussion exploring this theme.
About this event
COVID 19 added a new layer of disruption for philanthropy as we experienced the biggest threat to individual, community and societal wellbeing of our lifetime.
Social and environmental challenges, many pre-existing the pandemic, have become increasingly complex, urgent, and amplified during this crisis.
This is challenging us to rethink solutions and potential approaches to activate change and create lasting impact for social good.
Being intentional about the role philanthropy plays in change will be vital in rebuild & recovery as we stabilise and transition to a new phase.
Join us for a panel discussion, to include Sarah Watson, Head of UK Knowledge and Learning at The National Lottery Community Fund and James Banks, CEO of London Funders sharing insights and learnings as we consider how philanthropy can impact future change.
The panel discussion will be followed by a networking session via Spatial Chat from 1pm-1.30pm – an opportunity to catch up with fellow Philanthropy Ireland Members.
A seperate link to follow.
See you there!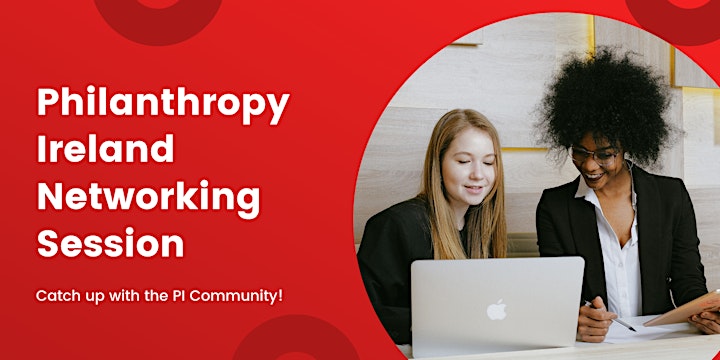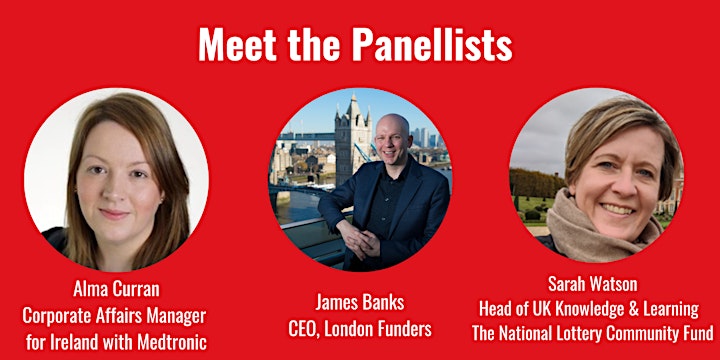 Alma Curran, Corporate Affairs Manager for Ireland, Medtronic Foundation
Alma Curran is Corporate Affairs Manager for Ireland with Medtronic. She is responsible for Government Affairs, Communications and Philanthropy for the company in Ireland.
She joined Covidien in 2010 following its Irish incorporation and managed outreach with the European Union and governments across the EMEA region. Prior to working with Covidien, Alma was employed by the Irish Government working in a variety of positions in research, communications and campaigns.
Alma is from the west of Ireland and has a BA in Law and Politics from NUI Galway and an MA in Public Affairs and Political Communication from DIT.
James Banks , CEO London Funders
James has been Chief Executive of London Funders since 2017, after nearly 20 years of working and volunteering across London's civil society. James leads the work of London Funders to strengthen civil society and create a better London, through enabling a network of over 170 funders from all sectors to be effective. In March 2020 London Funders launched the "We Stand With The Sector" funder commitment on covid-19, with over 400 funders from across the country signing up to core standards to support civil society through the pandemic, sharing the text for a mirror statement for European funders through DAFNE and the European Foundation Centre. Four days after lockdown started in the UK, James and the team launched the London Community Response funder collaboration, bringing together 65 funders who have so far distributed over £41m to civil society groups in the capital to deal with the crisis and support the resilience of London's communities.
Immediately prior to joining the team, James was Chief Executive at Greater London Volunteering, the regional membership body for social action charities in the capital, where he worked alongside the Mayor's office to win the bid for London to be European Capital of Volunteering in 2016. Previous roles have included Trustee or management roles in civil society support organisations in nine London boroughs, as well as being Chief Executive at the Royal Courts of Justice Advice Bureau in central London. James was the founder Chair of the Volunteer Centre for Tower Hamlets, was Chair of South West London Law Centres for ten years, and on the Trustee Board of his local Citizens Advice service for eight years, and continues to volunteer in his local community outside of work.
Sarah Watson, Head of UK Knowledge and Learning at the National Lottery Community Fund
Sarah is a believer in the power of individuals working together to effect positive change in their communities, and that knowledge and learning plays a key role in enabling this. She heads up the Knowledge and Learning convening team within the National Lottery Community Fund, established to gain deeper understanding from grant holders and community groups, and to effectively share Fund generated knowledge with them. This is a new area of work for the fund which it is hoped will add greater insight and depth to our learning, inform practice and policy, and support grantholders to deliver more effectively. Before joining the Fund, Sarah worked independently as a facilitator and network manage for a number of European knowledge networks and has been involved with developing, delivering and supporting food based community projects in her home town.