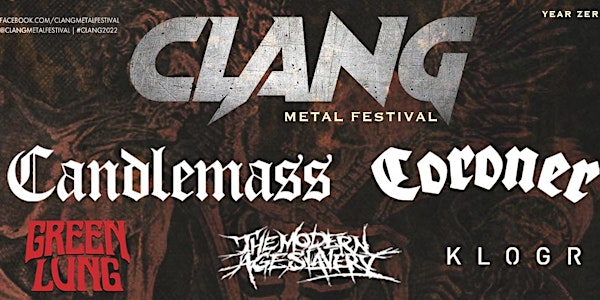 Candlemass, Coroner & Green Lung sponsored by Clang Metal Festival
Candlemass, Coroner and Green Lung @ the National Stadium in Dublin October 29th, 2022!
When and where
Location
The National Stadium 145 South Circular Road D08 HY40 Dublin 8 Ireland
Refund Policy
Refunds up to 7 days before event
About this event
Event Cancelled.
Due to circumstances beyond our control, it is with deep regrets that the event scheduled for October 29th has been cancelled.
No excuses, no blame. It's been a long road full of Pandemics, rescheduling and a lot of behind the scenes work and co-operation with Partners and Talent but in the end, the dates and stars did not align and rather than postpone the event to a time in 2023, the organisers feel it would be best for the fans and all involved to cancel.
The dream of seeing Coroner and Candlemass on stage supported by Irish metal acts will have to wait.
Our sincere thanks to the fans who have been so patient through the last 2 ½ years and to the bands and all support team members involved.
ABOUT THE BANDS:
CANDLEMASS
The all-day event will see Doom titans, CANDLEMASS make their long-awaited return to Irish shores where they will be performing classics from their 1986 iconic 'Epicus Doomicus Metallicus' as well as material from their latest full-length studio album 'The Door to Doom' and most recently, 'Pendulum' EP.
Having welcomed back original frontman Johan Längqvist, on their new album/EP, the band are gearing up for their long-awaited return to Ireland and their performance at CLANG will be the first for Johan who commented on the show:
"I am so excited to perform in Ireland. This will be my very first time not only visiting there but also performing. This is going to be a very special gig and we all can't wait for it. I don't think we've ever played with Coroner either, so it's going to be a very special show."Having recently just been nominated for a Grammy, Candlemass are celebrating the success of their critically acclaimed new album 'The Door to Doom' with a new EP release – "The Pendulum", which will be released via the band's label, Napalm Records.
Grammy-nominated classic doom icons CANDLEMASS don't even need to drop a full-length for every release to prove they belong at the top of an entire genre and beyond.
CORONER
CLANG will also be featuring the exclusive Irish debut performance from Swiss metal giants, CORONER, who will be taking to the stage on October 29th, 2022.
Often labelled a thrash band, CORONER's music went far beyond what is usually thought of as 'thrash metal'. Their crushing discography is littered with genre-defining brutal thrash metal classics not to mention their first four albums are considered to be the greatest thing that ever happened on the thrash metal field outside Metallica' and Slayer's first four.
Having formed in 1983 in their hometown of Zürich, the band released five albums and a semi-compilation over a period of eight years – from the unpolished and technical speed of 1987's 'R.I.P.', the complexity of 1988's 'Punishment for Decadence', the technical quality of 1989's 'No More Color' and its derivative 'Mental Vortex' from 1991 to the heavier and more laidback style of 'Grin'– the band progressed consistently, without ever losing their identity.
Having disbanded in 1996 and their reformation in 2011, CORONER are reportedly working on a new studio album, which is due for release next year. This will be the bands very first time performing in Ireland and will take to the stage in Dublin's National Stadium as part of Clang Metal Festival on Saturday, October 29th.
GREEN LUNG
Also making their Irish debut is none other than rising purveyors of doom, GREEN LUNG, who have just finished recording the follow-up to their hugely successful 'Woodland Rites' LP.
The UK five-piece have been gaining a tremendous amount of recognition from around the globe, thanks to their ability to craft monumental riff-filled anthems that pack a serious punch in the lower intestine.
Commenting on their inclusion for CLANG FESTIVAL and performing in Ireland for the very first time, vocalist Tom Templar…
'We've been wanting to make it over to Ireland for years now and to be able to make our debut alongside legends like Candlemass and Coroner is a dream come true. We look forward to letting the Devil into Dublin in 2022.'
THE MODERN AGE SLAVERY
Joining the line up for another Irish debut performance are Italian Death Metal crew, THE MODERN AGE SLAVERY who draw their influences from the likes of Whitechapel, Job For A Cowboy etc…
Formed in 2007, THE MODERN AGE SLAVERY rapidly gained unanimous critical acclaim due to their ferocious 2008 debut album "Damned to Blindness" via Napalm Records.
KLOGR
Alternative Italian/Amerian Metal crew, KLOGR will be gracing the CLANG bill, bringing their hybrid of progressive/alternative rock to the National Stadium on August 28th.
Having toured with Butcher Babies and The Rasmus, this will also be KLOGR's debut Irish performance.
A number of Irish bands will also appear.
The big vision is for Clang to be an annual event that focuses primarily on well-known and up-and-coming Irish bands. That is what Clang will always be about. We would love Ireland to have a large open-air festival like Wacken or Bloodstock someday down the line, but we are years away from that happening. But this is the start.
This is the Irish metal fans big opportunity, we have a great team, a good organisation and a love of metal if we [the promoters] and fans can work together and have a successful show; then we can make this an Irish festival to be proud of.
So, now is the time to get out there and spread the word, and show support for something that can be a truly great annual event!"
Tickets for Clang Metal Festival featuring CANDLEMASS, CORONER, GREEN LUNG, KLOGR, THE MODERN AGE SLAVERY, and more are on sale NOW via Eventbrite from €64.90 including the booking fee.
For more information visit us at Facebook.com/ClangMetalFestival and www.Overdrive.ie. 
#clang2021 @clangmetalfestival
Join us now at Facebook.com/ClangMetalFestival
TICKETS ARE LIMITED SO BOOK NOW!