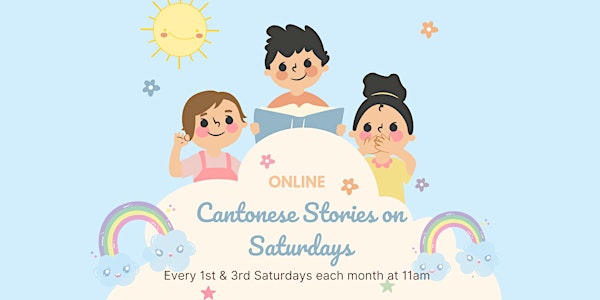 Cantonese Stories on Saturdays
Cantonese in Ireland: Cantonese stories on Saturdays
About this event
A FREE 40-min event of Cantonese story telling for children.
Heritage and curious learners of Cantonese are welcome, especially those aged 5-9.
Stories will be told in Cantonese, briefly in English whenever necessary.
After the story, participants are invited to do some simple Traditional Chinese writing, singing or Arts and Crafts.
Event occurs on every 1st and 3rd Saturday online.
For children protection and better communication with participants, all participants are required to turn on the camera mode.
Siblings who share one login need one ticket only.
免費四十分鐘嘅廣東時間又同大家見面。歡迎各位有興趣嘅朋友一齊參加。
活動主要以廣話東進行,如有需要,會配以簡單英語字詞以助孩子了解。
除咗聽故仔,我哋仲會一齊寫繁體華文正字、聽歌仔或者做吓手工
活動每個月第一及第三個星期六舉行
保障兒童及增加大家嘅參與,參加者需要使用視像模式。