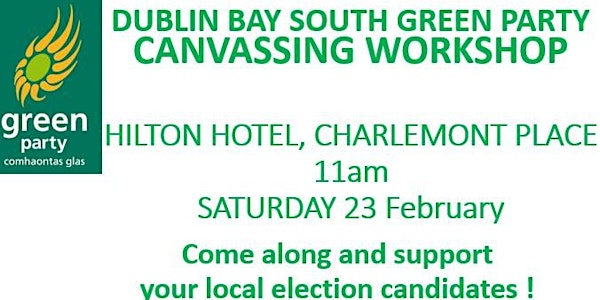 Canvassing Workshop
When and where
Location
Hilton Dublin Charlemont Place D02 A893 Dublin Ireland
Description
Dublin Bay South Green Party are holding a Canvassing Workshop on Saturday 23 February at 11am in the Hilton Hotel, Charlemont Place. This is an opportunity to learn about canvassing for the 2019 local elections.
There are three candidates running: Councillor Claire Byrne (South East Inner City), Councillor Patrick Costello (Kimmage-Rathmines) and Hazel Chu (Pembroke). The candidates will be there to talk you through the local election areas, do and don't tips for canvassing, local issues and more.
Canvassing is a proven method to get votes, so if you want to see Green Party candidates get elected, canvassing is a great way to help out!
The workshop will run from 11am until around 1:30pm and then will be followed by canvassing with groups going to one of each of the three local election areas. Please feel free to bring along any friends who would like to get involved with canvassing for the Green Party.
Looking forward to seeing you there..!
Dublin Bay South Green Party