Identifying the Barriers, Enablers & Gaps in Irelands Peatland Policy
About this Event
The UN, the EU and Ireland all wish to reduce GHG emissions from Peatlands. This can be achieved by rewetting and restoring our degraded bogs.
The EU project Care Peat wishes to discover the Barriers, Enablers and Gaps in peatland policy. We invite stakeholders to attend our live webinar on 29th October @ 2pm and / or to send us a short video with your opinions about Peatland Policy.
We have a YouTube Channel here: (LINK) Don't forget to Subscribe.
Please Register and we will let you know how to upload your video.
See our Policy Report: (LINK)
See our CAP Position Paper: (LINK)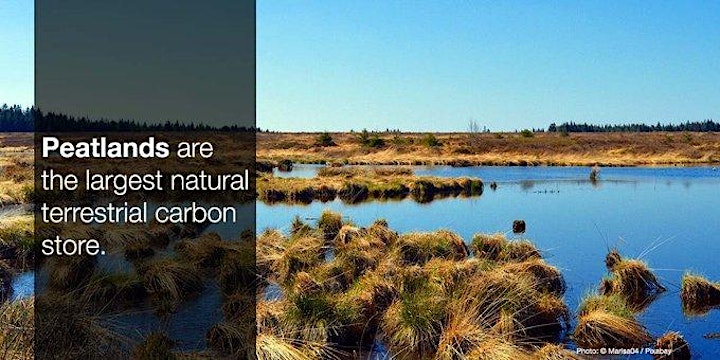 AGENDA
2.00 Opening, Welcome and Introduction
2.05 Official Opening address by Minister Malcolm Noonan
2.20 Statement from Minister Pippa Hackett
2.25 Statements by other elected representatives
2.55 Care Peat restoration by Terry Morley, NUI Galway
3.10 National Peatland Restoration by Suzanne Nally and Shane Regan, National Parks and Wildlife Service
3.25 Bord na Móna and Peatland Restoration by Joe M Lane BNM
3.30 Peatland Policy by Niall Ó Brolcháin, NUI Galway
3.45 Barriers to Peatland Restoration and Reduction of GHG emissions
4.00 Enablers for Peatland Restoration and Reduction of GHG emissions
4.15 Policy Gaps in relation to Peatland Restoration and Reduction of GHG emissions
4.30 Close
LINK
DSI UIoT is inviting you to a scheduled Zoom meeting.
Topic: Irish Peatland Policy Webinar Time: Oct 29, 2020 02:00 PM Dublin
Join Zoom Meeting: https://datascienceinstitute.zoom.us/j/98049285745
Meeting ID: 980 4928 5745
PEATLAND POLICIES IRELAND
Policies from high level to low level effecting restoration of Cloncrow Bog in County Westmeath in relation to a reduction in GHG emissions.
International Policies
1. United Nations Convention to Combat Desertification (UNCCD) is the sole international agreement focussing on linking development and environment to sustainable land management.
2. The Convention on Biological Diversity (CBD) is one of the 3 Rio Conventions.
3. The United Nations Framework Convention on Climate Change which reached a landmark agreement to intensify actions to combat climate change in Paris in December 2015.
4. The UN Sustainable Development Goals which provide a blueprint for reaching a more sustainable and better future for everyone.
5. The UN Decade on Ecosystem Restoration will take place from 2021-2030.
6. The RAMSAR convention on Wetlands which is an international treaty that provides a framework for the conservation and sustainable use of wetlands and their resources.
7. The Global Peatlands Initiative which was founded by leading experts and institutions at the UNFCCC COP, 2016.
European Policies
1. The EU Common Agricultural Policy which has governed European farming and rural development for over 60 years.
2. The EU Birds and Habitats directives which protects biodiversity in the EU by conserving natural habitats and wild fauna and flora species. It sets up the 'Natura 2000' network, the largest ecological network in the world.
3. The EU Water Framework Directive which requires all Member States to protect and improve water quality in all waters so that we achieve good ecological status by 2015 or, at the latest, by 2027.
4. The EU Climate and Energy Framework involves a binding target to cut EU emissions by at least 40% below 1990 levels by 2030.
5. The European Green Deal for the European Union (EU) and its citizens is currently under development.
Irish National Policies
1. The Bogland report published in 2011 by the Irish Environmental Protection Agency.
2. The Irish National Peatlands Strategy (2015) which is non statutory aimed to provide a long-term framework within which all of the peatlands within the State can be managed responsibly in order to optimise their social, environmental and economic contribution to the well-being of this and future generations. The National Peatlands Strategy identified specific policy actions for peatlands and climate change.
3. National Raised Bog SAC Management Plan 2017 – 2022. The purpose of the management plan is to provide a roadmap for the effective preservation of Irelands designated raised bogs.
4. The Irish National Climate Action Plan 2019 contains very significant actions in relation to peatlands, and it sets out key goals,
5. Project Ireland 2040 is the Irish government's long-term overarching vision to improve people's quality of life, enable economic development and conserve the environment.
6. The National Energy and Climate Plan 2021-2030 is currently in the development stages. It recognizes that Ireland's long-term energy policy framework is set out in the 2015 Energy White Paper, Ireland's Transition to a Low Carbon Energy Future 2015-2030.
7. Parliamentary Report of the Joint Committee on Climate Action Climate Change: A Cross-Party Consensus for Action (March 2019).
Regional Policies – Eastern and Midlands Regional Assembly (EMRA)
Each Regional Assembly produces its own Regional Spatial and Economic Strategy (RSES) consisting of a series of policy objectives, which give regional nuance to the broad national context, and in turn provide further guidance for local plans. Each of the three RSES has specific regional policy objectives (RPOs) concerning peatland, though the degree of focus on the topic varies between the documents.
Local Policies
Draft Westmeath County Development Plan 2021-2027, supports collaboration between local authorities, the Bord na Mona Transition Team and relevant stakeholders and the development of partnership approaches to integrated peatland management for a just transition that incorporate any relevant policies and strategies such as the Bord na Móna Biodiversity Plan 2016-2021 and the national Climate Mitigation and Adaptation Plans. This shall include support for the rehabilitation and/or re-wetting of suitable peatland habitats.