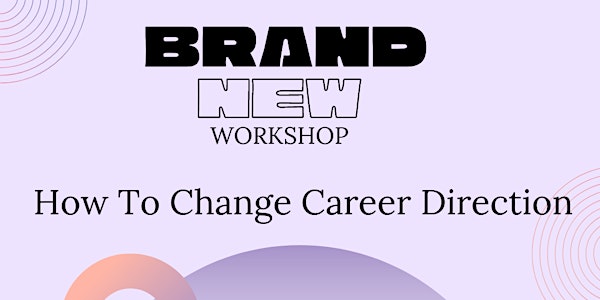 Career Change Workshop
Changing Careers with Confidence
Refund Policy
Contact the organiser to request a refund.
About this event
Are you thinking about changing your role in 2022, maybe you're looking at switching industries or perhaps you want a complete pivot altogether but don't know where to start.
IMAGINE ...
Instead of getting automated rejection emails, you get interviews
Instead of being ghosted by recruiters, you get headhunted
Instead of feeling self doubt, you feel confident and excited
We've been listening to our Rise Up community members over the last year - and there is a huge percentage of you seeking some kind of a change when it comes to your career. We want to help you make this transition with ease. No more settling or waiting for that perfect moment! There is no perfect moment so you may aswell start now!
With our new 90 minute career change workshop we will help you connect the dots between where you are right now and where you want to be, we will be taking you through:
Clarity - The why and the what
The Pivot - How to reposition yourself
Branding yourself online - How to build your presence on Linkedin
Search Your Network - How to maximise the power of your existing network and build on it (We will test this out with the Rise Up network)
Imposter syndrome & why you should make it your friend
Interviews made easy - Top interview tips
Who is this for?
You feel stuck in your job
You keep submitting CV's and aren't getting any interviews
You feel overworked, under appreciated and stressed
You don't enjoy what you are doing, but unsure of your next move
Meet Founder of Rise Up and Workshop Host:
Susan Dwyer
Susan Dwyer has 8+ years leadership experience working in the world of talent solutions, matching top talent with leading employers from all over the world.
She has worked closely with hundreds of candidates to help them create a successful job search strategy and land their dream job. She has also worked with hundreds of hiring managers to help them identify top talent to join their organisation.
Susan is the founder of Rise Up which is a leading career destination for women. Within this network, her mission is to empower women in their careers and to narrow the gender leadership gap. She is an experienced facilitator, mentor and community leader.
Susan is passionate about creating community as well as safe and inclusive spaces that promote learning and development. She believes that when women come together, great things happen. Her goal is to encourage, support and celebrate the diverse voices all around us and to ensure everyone can gain access to career development opportunities.