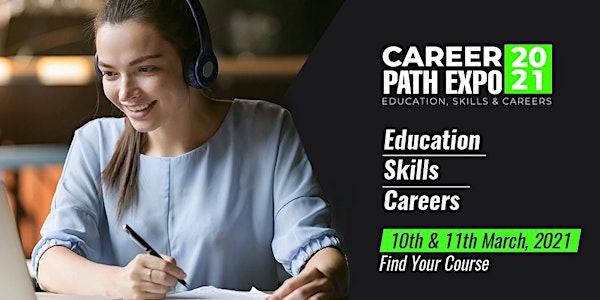 Career Path Expo - Wednesday 10th & Thursday 11th March 2021
CAREER PATH EXPO is a virtual education event that'll enable 2nd level students and school-leavers to gather info about 3rd level options.
About this event
You can now register directly into the event platform right here!
Career Path Expo will feature education, skills and careers – giving students the full range of information about universities and colleges, 3rd level and PLC courses, apprenticeships and career opportunities with companies that employ school-leavers. The event will take place on 10th and 11th March, 2021, and will provide all the information second level students will need to make good decisions about their further and higher level studies in advance of completing the Leaving Certificate and leaving school.
This virtual, 2-day event will be of key interest to senior cycle students, their parents, guidance counsellors in schools nationwide and those seeking information about colleges, courses, study and training and further education options after the Leaving Certificate.
It will feature two full days of webinars, talks, live Q&A sessions with careers experts and free careers advise, meaning students will be able to get information about the greatest range of courses, apprenticeships and jobs on offer from comfort of their classroom or home via laptop, tablet or smartphone.