The University of Warwick Masters in Public Health and Health Promotion Symposium on Careers in Public Health
About this event
University of Warwick Symposium on Careers in Public Health
This is an exclusive event hosted by our globally renowned experts in Public Health.
Our faculty will give you a snapshot of their inspiring public health careers and talk you through the varied and exciting career options open to MPH graduates. This will be a short, energetic discussion and then a very brief programme overview lasting 45 minutes maximum.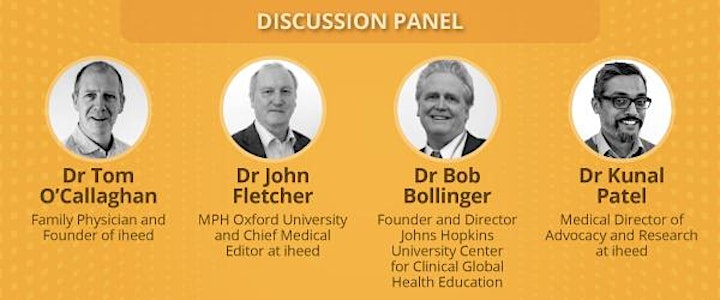 The Panel includes:
Dr Tom O'Callaghan - Chair
Family Physician and Founder of iheed
Dr John Fletcher
MPH Oxford University and Chief Medical Editor at iheed
Dr Bob Bollinger
Founder and Director, Johns Hopkins University, Center for Clinical Global Health Education
Dr Kunal Patel
Medical Director of Advocacy and Research at iheed
About the University of Warwick, Masters in Public Health & Health Promotion
This new Masters is very relevant. It has a contemporary curriculum designed in 2021 in response to current global health needs. It covers the all traditional areas of Policy, Communicable Disease Control, Epidemiology, Statistics, Social determinants of health, Impact of political policy and health infrastructure. However, this programme offers so much more. It covers areas such as climate change, gender and race discrimination, healthy cities and global mental health and has a significant emphasis on health promotion.The course provides a highly engaging, richly informative and convenient educational opportunity for busy healthcare professionals and will be accessible through a dedicated state-of-the-art online learning environment.
This program is provided in collaboration with iheed, a next-generation medical education organisation. Studying online with iheed gives you access to world-class medical education on any device at any time. Rich engaging, interactive content, discussion forums, journals and online lectures.
Organiser of Career Paths in Public Health