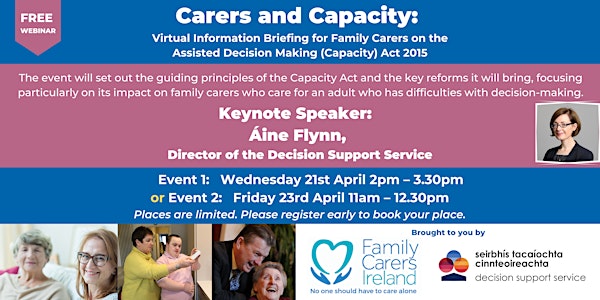 Carers and Capacity: Briefing for Family Carers on the Capacity Act
Virtual Information Briefing for Family Carers on the Assisted Decision Making (Capacity) Act 2015
About this event
Are you a family carer? Are you aware of the Assisted Decision Making (Capacity) Act 2015? In Family Carers Ireland's State of Caring 2020 report 73% of carers reported that they were not aware of the Capacity Act and its potential impact on their caring role. Family Carers Ireland and the Decision Support Service invites family carers to a virtual information briefing which will set out the guiding principles of the Assisted Decision Making (Capacity) Act 2015 and the key reforms that the Act will bring, focusing particularly on its impact on family carers who care for an adult who has difficulties with decision-making. To facilitate expected demand, two separate information sessions will be hosted each lasting 90 mins.
Keynote speaker: Áine Flynn, Director of the Decision Support Service
Chair: Catherine Cox, Family Carers Ireland
Event 1: Wednesday April 21st 2021 2pm – 3.30pm
Event 2: Friday April 23rd 11am – 12.30pm
(Please register for only one event. Places are limited so please register early.)
Topics Covered
The key reforms which the Act will bring;
Guiding Principles;
Functional assessment of capacity;
Details of the categories of decisions (Property and Affairs; Personal Welfare);
Framework of "decision supporters";
Advance Planning;
Functions of the Decision Support Service (incl registers, arrangements, complaints etc);
Codes of Practice & public consultation.
Q&A – opportunity for family carers to ask questions.
Registration:
Please register by indicating which of the two events you wish to attend. After you register you will be sent a confirmation email which will include a link to the online event and instructions on how to join.
Please submit any questions in advance to: mwilliams@familycarers.ie
Keynote Speaker: Áine Flynn, Director, Decision Support Service
Originally from County Down, Áine graduated from Trinity College Dublin with a law degree and M.Litt. by research. She was admitted as a solicitor in 1999 and from 2012-2017 was a senior partner in Dublin firm, KOD Lyons, specialising in public interest law. She was on the panel of legal representatives of the Mental Health Commission and the Mental Health (Criminal Law) Review Board from their inception in 2006 and represented wards of court instructed by the General Solicitor. Áine has written and lectured on human rights and holds a further qualification in quasi-judicial decision-making. Áine has been a member of the Human Rights Committee of the Law Society since 2012. Prior to her present appointment, she was a member of the Law Society's Mental Health and Decision-Making Capacity Task Force. In October 2017, Áine commenced in post as the first Director of the Decision Support Service under the Assisted Decision-Making (Capacity) Act 2015.