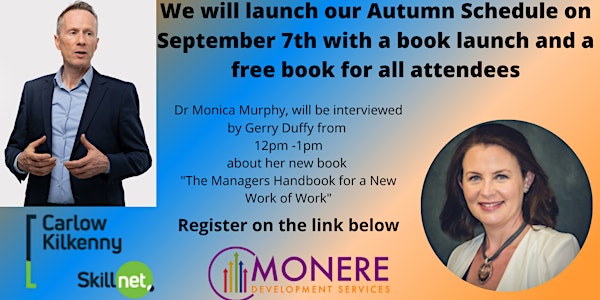 Carlow Kilkenny Skillnet Autumn Schedule Launch
Autumn Schedule Launch and Interview with Dr Monica Murphy
About this event
Gerry Duffy will launch our Autumn Schedule for us on September 7th. This will coincide with a live interview with Dr Monica Murphy about her new book "The Managers Handbook for a New World of Work"
Are you a new manager or an existing manager still facing challenges with the new way we are all working now.
If so, join us for this 'fireside chat' with Monica. You will get a copy of her new book and come away with ideas of how to deal with challenges that you are/may be facing.
"To handle yourself, use your head, to handle others use your heart" Eleanor Roosevelt
Meet the speakers:
Gerry Duffy is a full-time professional speaker for over 10 years. In that time, he has delivered over 2,000 presentations and spoken to more than 400,000 people. He has worked across Ireland, the UK, mainland Europe and the United States and his clients include Aldi, Aer Lingus, British Gas, Coca Cola, Microsoft, MSD, PayPal, Salesforce, Virgin Media and Workday. His entire business is dependent on being an impactful speaker.
Monica Murphy founded MONERE Development Services 2011. Monica left a permanent, pensionable job to strike out alone with nothing but a vision and a drive to see her dream come true.
After starting out at her kitchen table, this year she is celebrating 10 years in business. She now employs eight people. With a client list that now includes names like Deloitte, KPMG, Taxback, Aldi, Sisk, The Central Bank and The Office of Government Procurement MONERE is now busier than ever.
This event is open to only to people resident in Ireland