How Hospitable is Ireland?
About this event
What Does it Mean to be Irish Today?
Conversations on the Ethics of Identity and Belonging
UCD Centre for Ethics in Public Life
Ireland is marking centenaries of civil war and independence, establishing a new post-Brexit relationship with Britain and Europe, grappling with COVID and its consequences, and facing the global threat of climate crisis. This series of events at the Centre for Ethics in Public Life, opens discussions on what 'being Irish' means in these tumultuous times and what it could mean in the future. Events are free and open to all, but registration is essential.
Following our first event 'What Language do the Irish Speak?', join us for our second event:
2. Céad Míle Fáilte: How Hospitable is Ireland?
Wednesday 16th June 2021 16-18h
Ireland promotes itself, at least in its tourism materials, as a friendly, hospitable nation: the land of a 'hundred thousand welcomes'. Irish myths are full of the arrival stories of immigrants to Ireland: from Fénius Farsaid, the Scythian king who brought the Irish language to Ireland; to the Scandinavian Vikings; to the Anglo-Norman settlers who became 'more Irish than the Irish themselves'. Ireland is also a country with a legacy of emigration and exile, such that some element of the experience of being an immigrant – of being Irish elsewhere – is a significant part of the cultural memory, even for those who never left.
Does Ireland live up to its own notions of being the most hospitable of nations? What is it like to not be Irish in Ireland today? Or to be perceived as not Irish? While many nations have mythical origin stories of arrival, the worst kind of nationalism centres on excluding arrivals from elsewhere or on an idea of a mythical pure lineage. Ireland is not immune to this exclusionary nationalism: the treatment of asylum seekers in direct provision has raised numerous human rights concerns. Racist and exclusionary language is becoming more prominent in contemporary socio-political discourse. Just how hospitable is Ireland today?
Join panellists Valéria Aquino (Immigrant Council of Ireland), Mastoureh Fathi (UCD Sociology), Paula Carolina Martinez Pavon (The Danú Project / UCD Sociology), and Danielle Petherbridge (UCD Philosophy) to discuss these and related questions on Wednesday June 16th from 4-6pm. You will receive a link to join the event via Eventbrite, once you book your 'free' ticket.
Please email Fiona.lavin @ Ethics.cpd@ucd.ie re any queries.
This is a free event.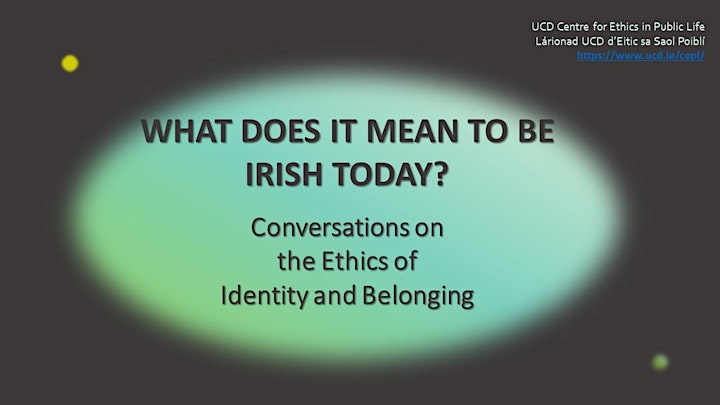 Organiser of Céad Míle Fáilte: How Hospitable is Ireland?