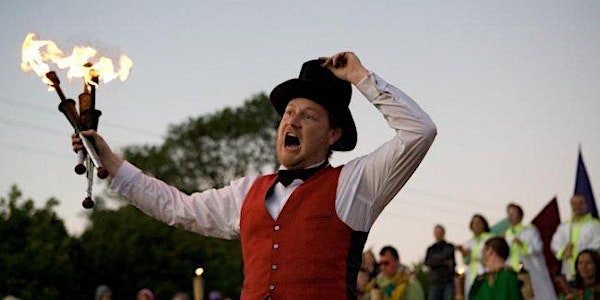 Ceardlann Scileanna Sorcais & Seó - Circus Skills Workshop & Show
Location
Wonder Marquee
Bishops Palace
Port Láirge
Ireland
Ceardlann Scileanna Sorcais le Stephen McGinley le Seó ina dhiaidh. Circus Skills workshop through Irish with a performance afterwards.
About this event
Ceardlann & Seó Sorcais go theaghlaigh leis an lámhchleasaí mór le rá Stephen McGinley. Beidh an ceardlann ag 15:00 oiriúnach do pháistí ó 5 go 18 bliana d'aois & a dtuismitheoirí. Tar agus foghlaim scileanna nua! Beidh an Seó Sorcais ag 16:00 le Stephen McGinley oiriúnach do cách!
Circus Skills Workshop and Show through Irish for families. The Workshop at 15:00 will be suitable for children aged 5-18 years old and their parents. Come and learn new skills! The Circus Show at 16:00 with Stephen McGinley is suitable for everyone!
Ceardlann/Workshop @ 15:00
Seó/Show 'Mo Cheol an tSorcas @ 16:00
Is gá ticéad a bheith ag gach duine i láthair - All attendees must have a ticket
Is gá Teastas bailí Covid & comhartha aitheantais a bheith ag gach duine thar 18 - All attendees over the age of 18 must have a valid Covid Certificate and ID.
Is gá do gach duine i láthair a lámha a dhíghalrú roimh teacht isteach - All attendees must sanitise their hands on entry.
Moltar do gach duine idir aois 13 go18 masc a chaitheamh. - All attendees between the age of 13 and 18 are recommended to wear a mask.
Is gá do gach duine fásta masc a chaitheamh - All adults must wear a mask.
Seans nach mbeidh cead isteach ag daoine a thagann déanach. - Latecomers may not be permitted entry.
Beidh sonraí teagmhála gach duine i láthair de dhíth le haghaidh rianú teagmhálacha. - Contact details required for all attendees to allow for contact tracing.