HALLOWEEN en ANANDA LAIE - Celebrando la vida - Celebration of Life
About this Event
(english below)
HALLOWEEN
Celebrando la vida
Esta época del año es celebrada por diferentes culturas y religiones bajo muchos nombres, incluyendo la víspera de Todos los Santos, Día de los muertos y tal vez la más famosa es Halloween.
Nuestro fin de semana estará orientada a la concepción Celta y Mejicana, subir la vibración para conectar con la alegría, con el agradecimiento, conectar con los ciclos de la vida y de la naturaleza.
Celebraremos la vida con talleres tan diferentes como puede ser el de Sanación a través de la respiración con PRETTY , despertaremos la creatividad en compañía de SANDRA ZUCAS, y dejaremos morir el Ego en una fantástica clase de Yin yoga y Yoga Nidra con RUBEN ALCAZAR para el sábado terminar con LA FIESTA acompañados de la música de CORAMÚSICA, Con MOKE y RUDI .
Se trata de dejar ir a lo viejo para dar paso a lo que está por venir.
Pasaremos un momento agradable y conectaremos con la verdadera esencia del sentido de esta fiesta.
Te invitamos a venir vestido con colores alegres, claros, o disfrazado/a de hada, duende, ángel, druida, guardián…deja volar tu imaginación.
Antes de la fiesta, en Ananda Laie, podrás asistir a un taller de pinta caras, preparado para esta ocasión. Podrás acceder a una mesa de pinta caras con colores veganos y naturales, donde AZ MAYI te convertirá en lo que desees:)
Una fiesta que no te quieres perder :) !!!
Seguimos el domingo con un maravilloso renacer ... El taller de REBIRTHING, guiados por ANTONIO GARCIA seguido por un viaje sonoro chamánico y de sanación guiados por SATYA y ALESSIA , a continuación puedes disfrutar de una clase de Yoga con MAARIT y cerramos este impresionante fin de semana con una clase de YIN YOGA especialmente preparada por nuestra inolvidable LOUISE LOVING.
Puedes asistir a una clase o taller, un día o los dos y si quieres, regálate también la estancia en uno de nuestros hoteles asociados y disfruta un fin de semana salpicado de VIDA:)
Todo preparado con mucho amor por todo el equipo de
ANANDA LAIE y GLOBAL NOMADS
Namaste
Aforo limitado, haz tus reservas.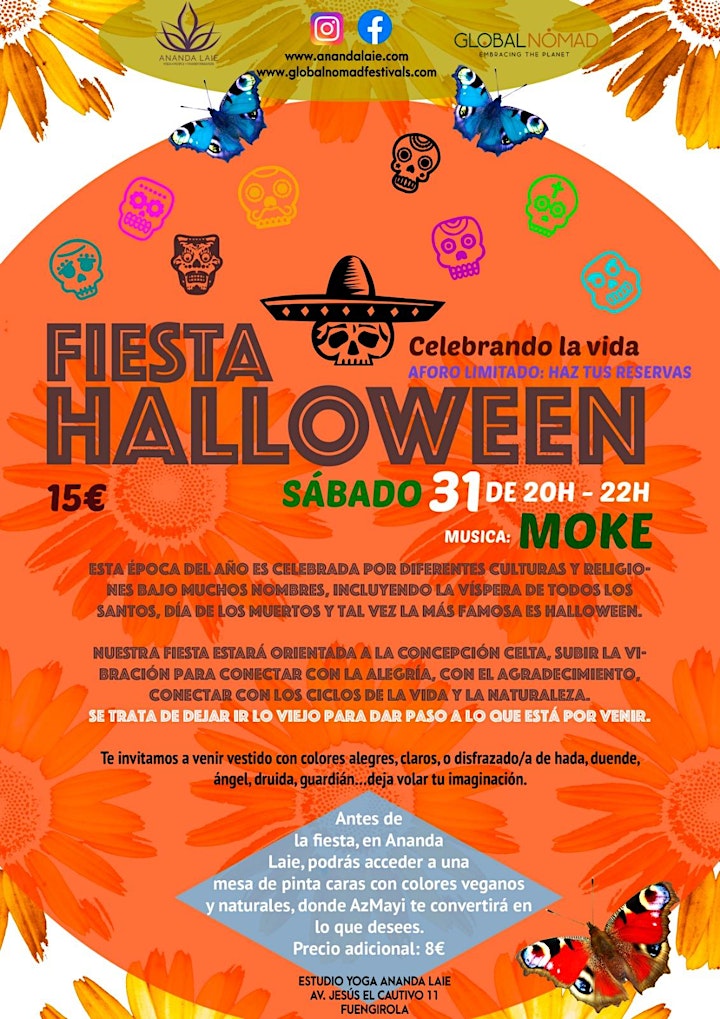 HALLOWEEN
Celebrating life
This time of year is celebrated by different cultures and religions under many names, including All Hallows' Eve, Day of the Dead, and perhaps the most famous is Halloween.
Our weekend will be oriented to the Celtic and Mexican conception, raising the vibration to connect with joy, with gratitude, connect with the cycles of life and nature.
We will celebrate life with workshops as different as the Healing through breathing with PRETTY, we will awaken creativity in the company of SANDRA ZUCAS, and we will let the Ego die in a fantastic class of Yin yoga and Yoga Nidra with RUBEN ALCAZAR for him. Saturday finish with LA FIESTA accompanied by the music of CORAMÚSICA, With MOKE and RUDI.
It is about letting the old go to make way for what is to come.
We will spend a pleasant moment and connect with the true essence of the meaning of this party.
We invite you to come dressed in cheerful, light colors, or disguised as a fairy, elf, angel, druid, guardian ... let your imagination fly.
Before the party, at Ananda Laie, you can attend a face painting workshop, prepared for this occasion.
You can access a face painting table with vegan and natural colors, where AZ MAYI will make you whatever you want :)
A party that you don't want to miss :) !!!
We continue Sunday with a wonderful rebirth ... The REBIRTHING workshop, guided by ANTONIO GARCIA followed by a shamanic and healing sound journey guided by SATYA and ALESSIA, then you can enjoy a Yoga class with MAARIT and we close this impressive weekend week with a YIN YOGA class specially prepared by our unforgettable LOUISE LOVING.
You can attend a class or workshop, one day or both and if you want, treat yourself to a stay at one of our partner hotels and enjoy a weekend full of LIFE :)
Everything prepared with much love by the entire team of
ANANDA LAIE y GLOBAL NOMADS
Namaste
Limited capacity, make your reservations.