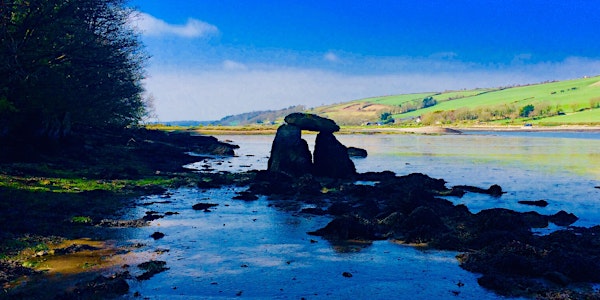 Celtic Christian Spirituality Meditation Circle
Celtic Christian Spirituality Weekly Meditation Circle (Online)
About this event

Kindly note: Newcomers to our circle are invited to join me online at 6:30pm Irish/UK Time on Wednesdays, 30 minutes in advance of the gathering using the same zoom link, to receive information on the format of our gathering.
Celtic Christian Spirituality is rich with an awareness of the sacred inter-related nature of all of life. 

It celebrates the good news that the Divine Love and Light is the core essence of every human being, every leaf of grass, every star in the sky.


It also affirms the need for Divine Grace, along with compassionate inner transformation and service work, to further live the integrity and goodness of the True Self.
For the Celtic Christian, we have reverence for the transcendent, unnamable, unknowable aspect of the Divine, and the immanent, Divine dance of creation, manifest in the world around us, in every taste, touch, sight, and sound.
This is a contemplative gathering with a focus on direct experience, and the cultivation of the heart through prayer, meditation, dreamwork, study, engaged mindful awareness practice, self compassion, inner work, reflection, and spiritual inquiry.


Our circle group is based on the principles of integrity, sincerity, and a loving sacred awareness for ourselves, each other, and the world around us.
We are an affirming and inclusive meditation group that is open to all. We welcome individuals of any age, race, ethnicity, ancestry, gender expression, national origin, disability, religion, sexual orientation, and socioeconomic background.
If you describe yourself as being 'spiritual but not religious', and you have respect for the essence of the Christian message, and the light of all the worlds blessed traditions, you are very welcome to join us. 


What is the format of the meditation group?


I invite newcomers to our circle to join me online at 6:30pm Irish time on Wednesdays, using the same zoom link that you will find when you register for this gathering here on Eventbrite.
During this introductory call, I will share the format of the circle with you, along with our group value agreements for working with dreams.
This helps us to co-create a nourishing sacred space together where the dreamers dream can be heard reverently by the hearts of all present.
Following this introductory meeting, we join the zoom room in silence at 7pm Irish time, and start with a 40 minute silent meditation/prayer. 


There are many forms of Christian meditation. Whether you practice St. Teresa of Avila's Christian Prayer of the Heart, Centering Prayer, John Main's Christian Meditation, or any other form of Christian meditation, you are more than welcome to meditate in the way you have been guided. If you are new to meditation, I will share a short introduction with you individually.


After meditation/centering prayer, we then share a tea break, and return for dreamwork.
Numbers 12:6 " I will speak to them in dreams."
Working with dreams has long been a source of guidance and healing in all cultures throughout history.
Dreams can teach us about ourselves, and reconnect us with the soul as it speaks to us in this ancient language of images and symbols, pointing us towards wholeness, integration, and our highest creative purpose in service to Divine Love. 


After dreamwork, we study a passage or listen to a talk from any one the following: the Holy Bible, the Wisdom Tradition of the Old Testament, the Gospel of Thomas, writings from the Christian mystics, Christian Saints, and writers such as John O'Donohue, Fr Thomas Berry, Teilhard de Chardin, St. Colmcille, as well as pioneers of Spiritual Ecology.

You are very welcome to come for a taste of the circle, and see how you feel.
About Me:
I'm an ecumenical Christian with a grá for Celtic Christianity. I live a semi monastic home life balancing a daily rhythm of meditation, prayer, study, career in the social purpose sector, community action and retreat. 


My contemplative journey started with John Main's Christian Meditation and in more recent years it has deepened with the Christian Prayer of the Heart, and with Centering Prayer.
I'm particularly interested in engaged forms of faith, spirituality and mindful awareness in response to the global climate and social crises present today.


I'm an advocate for inter-spiritual approaches to social change. I've been involved in Sufi-Christian dialogue for the last 7 years, and I'm currently in the process of creating an interfaith charity. 



I live in Killala in County Mayo, located at the gateway of Ireland's wild Atlantic Coastline.