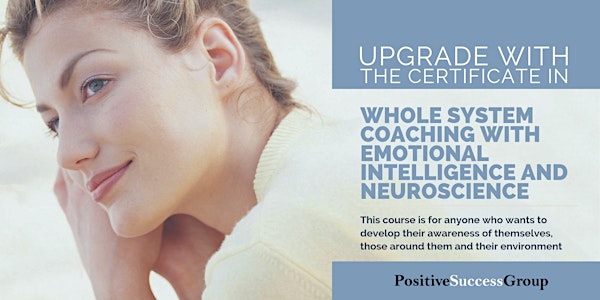 Certificate in Whole system Coaching with Emotional Intelligence and Neuros...
Event Information
Location
Marino Institute of Education
Griffith Avenue
Dublin
Ireland
Description
When coaching, one of our objectives is to enable new awareness to facilitate our client making the most of their potential. We know that we have many intelligences – academic, musical, artistic, etc. – each with their own potential for further development.
Research has shown that our Emotional Intelligence is directly linked to our success so it is imperative that we are skilled in helping people discover and develop their own Emotional Intelligence in order to realise their full potential for success whether it's for personal effectiveness or in the workplace. This is what we had in mind when designing this emotional intelligence training!
Weekend Course Structure:
A brief History and Reality Check on influencers on Emotional Intelligence today

The 6-Step EI Coaching Guide

EI Coaching for Personal Effectiveness

EI Coaching for the Workplace

EI Career Trends

EI for Well-Being
Where :
Marino Institute of Education, Griffith Avenue, Dublin 9 Institute of Education. Griffith Avenue. Dublin 9
When :
2 Days. 10am to 5pm. 31 August/1 September
Fees : €585. Can be paid in installments
Email : info@positivesuccessgroup.com

Phone : 1890 253 134 / 01 805 7745
Date and time
Location
Marino Institute of Education
Griffith Avenue
Dublin
Ireland