Certification course in Superhero Therapy with Dr Scarlet | 12 CPD hours
Join Dr Scarlet for this applied certification course in Superhero Therapy. Enhance your approach & empower clients to find their strength.
Refund Policy
Contact the organiser to request a refund.
About this event
Worldwide fascination with popular culture, including Star Wars, Star Trek, Harry Potter, Wonder Woman, and The Avengers is at an all-time high and with good reason! For decades now, these films, books, and TV shows have reflected people's mental health struggles, including PTSD, grief, anxiety, and depression. And now, in the age of the global pandemic and a worldwide mental health crisis, we need to make mental health accessible and relatable. Using popular culture as a bridge for understanding mental health can foster acceptance and mindfulness skills, helping clients to work on finding their core values. This training will focus on how elements of popular culture can be incorporated into Acceptance and Commitment Therapy to treat PTSD and other mental health struggles, as well as to strengthen rapport with clients, and to increase compliance to treatment. No previous experience with popular culture necessary. Capes are optional.
Join clinical psychologist and international speaker/ trainer Dr Janina Scarlet in exploring Superhero Therapy, and learn how it can both enhance your therapeutic approach and empower your clients to find their strength.
Upon completion of this course, you will receive a certification in Superhero Therapy.
!!! IMPORTANT SCHEDULING NOTICE !!!
This online training takes place via Zoom across three sessions.
Friday, February 5th, 2021: 4 pm – 8 pm GMT
Saturday, February 6th, 2021: 4 pm – 8 pm GMT
Friday, February 12th, 2021: 4 pm – 8 pm GMT
Cost & Registration
€195 for complete access to the online training via Zoom. Reduced rate of €145 offered for students and unwaged/ low waged attendees. Reduced rate of €95 offered for people who are already certified in Superhero Therapy and completing this course as a refresher (contact info@actnow.co for details).10% discount for members of our mailing list. 20% discount for graduates of our Advanced ACT MBI Course. €75 discount for people that register for our upcoming FACT training with Dr Strosahl & Dr Robinson.
Who is this training for?
A variety of professions including and not limited to Psychologists, Psychotherapists, Coaches, GPs, Psychiatrists, Speech and Language Therapists, Occupational therapists, Physiotherapists, & Executive coaches.
Prerequisites
Some familiarity with the ACT model is recommended but not required.
What is Superhero Therapy?
Workshop Learning Objectives
Explain the concept of Superhero Therapy
Demonstrate how to incorporate pop culture examples into ACT
Create a treatment plan using Superhero Therapy
Explain the concept of Therapy Quest and game-based approaches to therapy
Discuss research related to game-based and pop-culture-based treatments
Demonstrate how to apply superhero narratives for PTSD treatment
Demonstrate how to help clients access their core values using Superhero Therapy
Explain how to help clients find emotional safety and practice acceptance skills while facing their internal "monsters"
Explain the role and the importance of heroic role models for treatment and recovery
Discuss how to "gamify" homework practice
Demonstrate mindfulness and self-compassion practices in Superhero Therapy framework
Demonstrate the implementation of creativity exercises in Superhero Therapy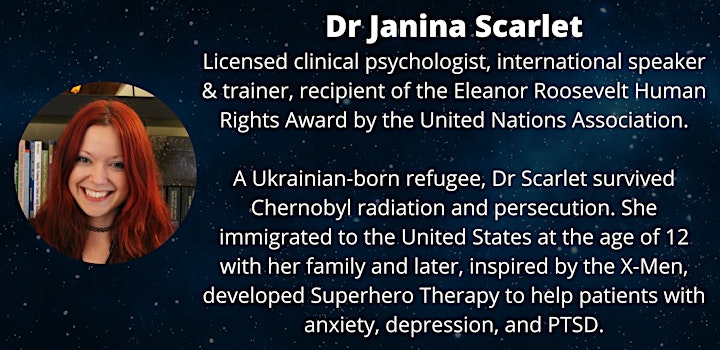 Who is Dr Scarlet?
Dr Janina Scarlet is a Licensed Clinical Psychologist, a scientist, and a full-time geek. A Ukrainian-born refugee, she survived Chernobyl radiation and persecution. She immigrated to the United States at the age of 12 with her family and later, inspired by the X-Men, developed Superhero Therapy to help patients with anxiety, depression, and PTSD. Dr Scarlet is the recipient of the Eleanor Roosevelt Human Rights Award by the United Nations Association for her work on Superhero Therapy. Her work has been featured on Yahoo, BBC, NPR, Sunday Times, CNN, CW, ABC, The New York Times, Forbes, the Nerdist, BuzzFeed, and many other outlets.
Refund & Cancellation Policy
We will offer a full refund to registrants who cancel their registration up to 28 days before the training start date (minus administrative fees). If canceled up to 14 days before the training start date, registrants may request a 50% refund (minus administrative fees). If canceled within 14 days, no refund will be issued. Please email us at info@actnow.co to cancel a registration.