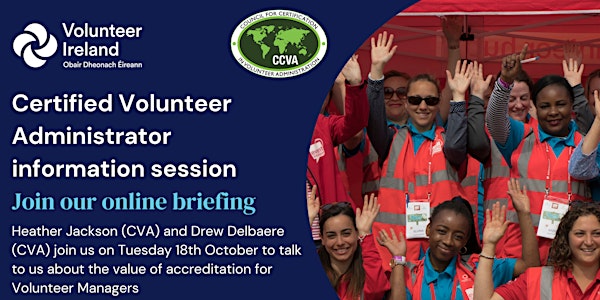 Certified Volunteer Administrator (CVA) accreditation information session
Heather Jackson and Drew Delbaere, both CVAs talk to us about the value of the Certified Volunteer Administrator (CVA) accreditation
About this event
Take the next step in your career as a leader of volunteers and become certified in Volunteer Administration (CVA).
Executive leaders in non-profit organisations increasingly understand that volunteers can be a critical resource for delivering on a mission. Effective people management is imperative – whether they be paid or unpaid. As a result, employers expect that those individuals tasked with mobilising and coordinating volunteer engagement demonstrate a thorough knowledge of effective practices and an understanding of how to apply that knowledge in support of real-world organisational priorities.
Certified in Volunteer Administration (CVA) is an international professional certification in the field of volunteer resources management. In this session you will learn about the CCVA, why certification may be right for you, how the exam is created, and what the application, preparation, and certification process is.
Please note this session is only open to volunteer managers (paid and unpaid) based in Ireland.
Trainers: Heather Jackson (CVA) and Drew Delbaere (CVA)
Heather is currently the Manager of Volunteer Services at Greeley Hospital in Greeley, Colorado. She has a BS in Human Services and has been a volunteer manager for 13 years. She obtained her CVA in 2016. She is passionate about connecting people to roles that use their talents and make a difference in the lives of others.
Drew is the Volunteer Manager with Fringe Theatre in Edmonton, Alberta, Canada. In his current role, he supports a team of 100 year-round leadership volunteers and 600 episodic volunteers who help with the 11-day Edmonton International Fringe Theatre Festival. Drew has a BSc in Civil Engineering and enjoys applying his analytical thinking to volunteer engagement, which he has been doing for over 7 years with various organisations. He obtained his CVA in 2017 and plans to renew later this year.
For more information visit the Council for Certification in Volunteer Administration web site
Facilitator: Stuart Garland, Volunteer Ireland