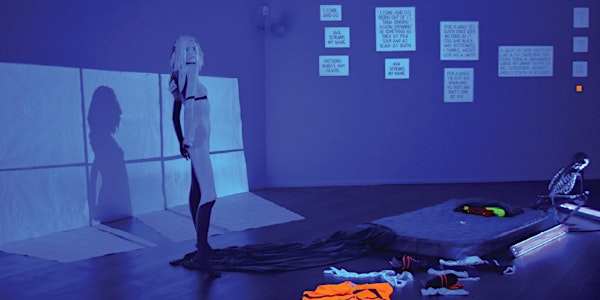 CFCP Meeting Point - Building your Social Presence & Connecting Online
Sales Have Ended
Registrations are closed
Thank you for registering for the Annual Meeting Point for Migrant and Culturally Diverse Artists @ the Centre for Creative Practices. To join the first meeting of the Series scheduled for Montag 7th September from 4 till 6 pm, please use the link below. Monika Sapielak is inviting you to a scheduled Zoom meeting. Topic: Annual Meeting Point for Migrant and Culturally Diverse Artists Time: This is a recurring meeting Meet anytime Join Zoom Meeting https://us02web.zoom.us/j/82611151320?pwd=amc3Z0RuNEcyMy9oU2x5cUVjdzIrUT09 Meeting ID: 826 1115 1320 Passcode: 503083 We look forward to connecting with you on Monday! Best wishes, Monika & Ian Monika Sapielak The Old Milking Parlour Ballymurrin Lower Kilbride A67TK64 Co Wicklow Ireland E: monika@cfcp.ie M: +353-866084020 Skype: monika.sapielak www.cfcp.ie www.creativeentrepreneurs.ie
Sales Have Ended
Registrations are closed
Thank you for registering for the Annual Meeting Point for Migrant and Culturally Diverse Artists @ the Centre for Creative Practices. To join the first meeting of the Series scheduled for Montag 7th September from 4 till 6 pm, please use the link below. Monika Sapielak is inviting you to a scheduled Zoom meeting. Topic: Annual Meeting Point for Migrant and Culturally Diverse Artists Time: This is a recurring meeting Meet anytime Join Zoom Meeting https://us02web.zoom.us/j/82611151320?pwd=amc3Z0RuNEcyMy9oU2x5cUVjdzIrUT09 Meeting ID: 826 1115 1320 Passcode: 503083 We look forward to connecting with you on Monday! Best wishes, Monika & Ian Monika Sapielak The Old Milking Parlour Ballymurrin Lower Kilbride A67TK64 Co Wicklow Ireland E: monika@cfcp.ie M: +353-866084020 Skype: monika.sapielak www.cfcp.ie www.creativeentrepreneurs.ie
the tools and tips to help you learn how to use social media platforms for your art with artist Kari Cahill
About this event
The Centre for Creative Practices Annual Meeting Point For Migrant And Culturally Diverse Artists
Building your Social Media Presence and Connecting with Online Audiences
A professional development workshop & QA Session
with Kari Cahill
Artist
Online Zoom from 6.30pm - 8.30pm
1 December 2021
Building your Social Media Presence and Connecting with Online Audiences
A professional development workshop and Q/A session
Top Tips for Building Your Social Media Presence
This course is designed to give you the tools and tips to help you learn how to use social media platforms for your art. Starting with the basics you will be guided through each platform. The 2 hour session will cover the topics listed below, and will set participants up with the confidence to make the jump into social media posting.
The course will cover:
Overview:
What platform will work for you? What is the difference between Instagram, Facebook, Pinterest and other platforms?
How to set up each platform for professional use – step-by-step guide.
How to write a bio, short artist statement, and where to include contact details.
Photos – how to take and edit photos.
– Images of artworks
– Process Images
– Inspirations and quotes
– Previous Work – v – New Work
– Using your home/studio as a backdrop
CONTENT! Stories v Posts v Reels – what's the difference and when should each be used.
#'s – Hashtags and how they work. We will discover 30 tags that work for your art.
How to write interesting captions that tell your story.
Kari Cahill
Artist
Kari is an artist based out of The Model, Sligo, on the North-west Coast of Ireland. She is the Director of the Arts Organisation Lay of the Land. Kari's artistic practice contributes to the development of new perspectives on our cultural, historical and natural landscape.
She is Ireland's leading pigment forager; synthesising natural materials into paint, pigment, and inks forms the backbone of her process based practice.
She was awarded the 2020 Visual Arts Bursary from the Arts Council to develop a collaborative, site-responsive book; a glossary of bio-colour, knowledge and landscape as well as The Project Award 2021 with which she will develop a large ambitious outdoor artwork painted directly onto the Coastal landscape of the Northwest. She has recently been involved in: Far in Far out (Cairde Arts Festival), Are we there yet! (Hawkwell Theatre) and Tidelines (Tread Softly Arts Festival), Materials Matter (VISUAL Carlow).
She has presented work throughout Ireland, more specifically at wild landscapes along the West Coast (Calafort 2019, Tombolo 16-19, Silva 18). Kari has participated in residencies in India (Space 118, Bombay 2016) and Brazil (Na Casa,Florianopolis 2019). Kari was an invited guest speaker at Basic Talks (2019), Above the Fold (2017), Short Stories (2018) and New Ecologies of Practice, NCAD, 2012.
Her projects have been featured in The New York Times, The Guardian, The Irish Times, +Billion- Art Journal, and Bloomers Magazine. Kari is a member of Wild Pigment People, an International organisation dedicated to pigment promotion and education.
The Centre for Creative Practices is delighted to welcome you ALL to our fourth annual Meeting Point – Professional Development Series for Migrant and Culturally Diverse Artists.
The Meeting Point Series has two aims: 1.) to help artists hone and develop their professional skills; 2.) to establish a vibrant network between migrant, culturally diverse and local artists leading to new collaborations, cross-pollination, professional and personal growth.
The Meeting Point takes place online and as physical series of talks, workshops, meetups and networking events.
We very much look forward to connecting with you over the next three months.
We hope you will be able to join us and benefit from professional support and exchange with your peers.
Zoom in, learn, share and enjoy!
Organiser of CFCP Meeting Point - Building your Social Presence & Connecting Online
The Centre for Creative Practices, CFCP, founded in September 2009, is led by an international team of Creative Managers who have worked together in Dublin since 2009. Together we have over 30 years combined experience of working in the cultural and creative sectors and 15 years combined experience of working with innovation and technology projects.

Having worked with 1,500 individual creatives from all over Ireland and with various Creative Organisations we have realised that the entire Cultural and Creative Sector is missing training in the basic business and entrepreneurial skills necessary to sustain careers.

Giving you the opportunity to turn your passions into your profession.  We provide the relevant knowledge, tools, resources and services that allow you to achieve your goals.

In the Centre for Creative Practices we aim to be the bridge between you and where you want your career to be. We have designed a concentrated development programme that outlines the aims, goals and outcomes of the scheme without taking away the core values of the individual participant bi not compromising their creativity or art but enhancing it, giving it greater impact.

The Centre for Creative Practices (CFCP) is also the first intercultural Creative Organisation in Ireland and in Europe leading and shaping culturally diverse arts practice. CFCP is dedicated to integrating, promoting and mentoring migrant and local niche creatives. We also have access to and engage with a diverse range of minority ethnic and cultural communities.