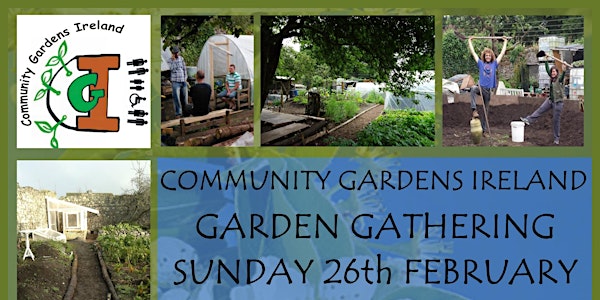 CGIreland Gathering and Orchard Workshop
When and where
Location
Birr Family Resource Centre Unit 2 Costcutter Car Park Glebe Street Birr Ireland
Refund Policy
Contact the organiser to request a refund.
Description
Join us at the first Community Gardens Ireland learning and networking event of 2017!
Hosted by The Growery garden project, this will be a day packed with information and inspiration to help you get cracking with your own projects, either at home or out in your community. With a practical workshop, garden tours, expert advice and networking sessions, you'll go home with a wealth of new knowledge, skills, friends and collaborators to help you launch into an exciting new gardening year.
PROGRAMME;
10:00 - Arrivals, Seed Swap and "Spud Dating". Grab a cuppa, settle in and find your friends. We'll keep you circulating to make sure you get to meet everyone, find out where they're from and what they're up to, and swap contacts... trust us, after this day you'll want to keep in touch! This being the season to sort out your seeds, we'll also have a table and bags available for seed swapping... so bring along any surplus seeds you have, ready to get sharing and sowing!
10:40 - Welcome and Introduction. Find out a bit more about CGIreland and get set up for the day.
11:00 - Orchard Workshop with Kevin Dudley. Kevin Dudley was the first dedicated orchard manager at Irish Seed Savers, and was able to build their traditional apple collection with his expertise in grafting from poor specimens of dying trees from around the country. These days, Kevin is one of the full-time farmers at Cloughjordan Community Farm, and helps to oversee the hundreds of native apple trees in Cloughjordan Ecovillage. Working with the beautiful old trees in The Growery's walled gardens, Kevin will be giving practical demonstrations and expert advice on pruning, training and all aspects of orchard maintenance, giving you the confidence to go home and work on your own trees this season.
13:00 - Lunch. A delicious light lunch of local produce, and another chance to mingle and share.
14:00 - Tour of The Growery with Eimhin Callanan. The Growery is a community based food commons project based in the heart of the midlands at Birr , in Co.Offaly. As per the first principle of all commons, their model is simple, any who contribute can draw from the commons in due proportion . This initiative was begun as an effort to restore to good health of its founder after a 6 year bout of debilitating Crohns disease (this is Eimhin's first year since 2008 not to be hospitalised - it's working!) Today the Growery team work with a number of sites welcoming Mental Health groups, Intellectual Disability groups, school groups, growers, gardeners, and the wider community to participate in their efforts to restore the conscious link between soil, gut, and soul. In 2017 they will open their first formally 'social' or 'community' garden. They are developing work with the Education and Training Board, Engineers Without Borders, and the Irish Archeological Field School, to name a few. 2017 will be their third year. We look forward to showing you around!
15:30 - Refreshments and Panel Q&A. Time to grab another cuppa and get some advice from our panel of experts from The Growery and the CGIreland team. Bring your questions on any aspect of practical gardening and setting up community projects.
17:00 Close. Say bye for now... and see you soon!
EXTRAS;
Saturday 25th, All Day - The Growery Bi-weekly Community Workday. If you'd like to make a weekend of it, why not come and get dirty with The Growery team and help them to prepare the garden for the new growing season? The day will include a permaculture composting workshop with Istvan Markuly. Contact Eimhin on 0892324012 if you'd like to take part or find out more.
Saturday 25th, 20:00 - Social Meet-up at Mario's (Enright's), Emmet Square, Birr. If you're living nearby, or travelling and staying over, come and join us for a night out! A chance to have all those long conversations that you might not have time for on Sunday.
BOOKINGS;
We really need you to book your place for two reasons;
1; We need to know how many people will be there on the day to make sure there will be enough room... and enough tea!... for everyone.
2; CGIreland does not, at the moment, receive any funding and all of our staff work as volunteers. Your contribution covers running costs for the day, and we couldn't do it without you!
We like to make our events fair and affordable for everyone, so there are 3 pricing options;
The Standard Supporter. €25. This covers all of the running costs for the day, and includes the price of workshops, talks, a light lunch and all other refreshments.
The Skint Supporter. €5. We'd hate anyone to feel excluded just because they're strapped for cash, so this option covers the cost of lunch and refreshments and you get all the talks and workshops for free. PLEASE, respect the hard work that the CGIreland crew do and ONLY use this option if you genuinely can't afford the full price.
The Super Supporter. €40. Maybe you've had a good week. Maybe you're feeling a bit flush. Maybe you could consider paying a little extra to support not just this event, but all of the work that CGireland does all around the country, all through the year. If you can afford it we'd be eternally grateful for your contribution!
Want to help but can't come along? You can always support our work by making a donation HERE
PRACTICAL STUFF;
WHERE IS IT?
This is a great location with plenty of free parking space!
Tours and demonstrations will be at The Growery gardens themselves, which are just a short walk away in the walled gardens on Oxmanton Mall, Birr, Co. Offaly.
I WANT TO STAY OVER, IS THERE ACCOMMODATION?
Rooms at the local hostel can be arranged for €16 per night. Contact Eimhin on 0892324012 and he'll organise that for you.
Oldfarm are offering a special deal for ticket holders at their award-winning B&B - €30 for accommodation only or €50 with one of their amazing dinners. Contact them via their website http://www.oldfarm.ie/
ANYTHING ELSE WE CAN HELP YOU WITH?
No problem... email us at info@cgireland.org
or TEXT Lily on 0892440068 or Dee on 0876843374