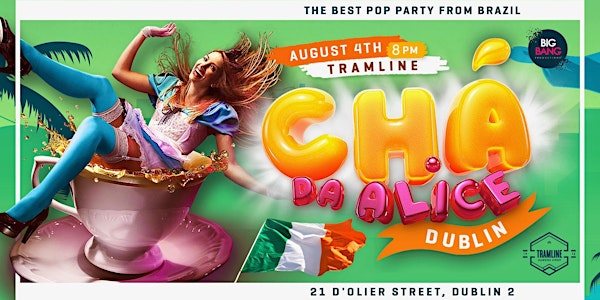 Chá da Alice Dublin
Chá da Alice - A Maior Festa POP do Brasil volta a Dublin!
When and where
Location
TRAMLINE 21 D'Olier Street D02 XY31 Dublin 2 Ireland
About this event
🇮🇪 ♣ A maior festa Pop do Brasil chega a Dublin! 🐰☕️
CHÁ DA ALICE - UMA FESTA INFANTIL PROIBIDA PARA MENORES.
Ambientada na famosa história de Lewis Carroll, a festa Chá da Alice propõe uma noite irreverente e inesquecível para o seu público: os "Aliceados"
Os" Aliceados" são recebidos pela Rainha de Copas, que comanda a fila com seu soldado, o Chapeleiro maluco, e te levam até a Alice, que te recebe com um misterioso chá que vai te levar para o fantástico mundo da alegria e diversão.
A musica contagiante da festa não deixa ninguém parado e os ritmos mais variados promovem uma noite diferente, única e exclusiva!
No meio da noite, surpresas vão surgindo e os personagens distribuem adereços como os laços da Alice, óculos malucos, cartolas, mascaras, bambolês e pirulitos de coração…
🇮🇪 ♣ Brazil's biggest pop party arrives in Dublin! ☕️🐰
ALICE'S TEA - A TEA PARTY JUST FOR GROWN-UPS.
Set in the famous tale by Lewis Carroll, ALICE'S TEA party proposes an irreverent and unforgettable night for the public!
Guests are received by the main characters of the story in a circus like backdrop.
The Queen of Cups who runs the show with her letter soldier, the Mad Hatter who serves a mysterious Tea before entering and Alice who will take you into a world of joy!
The contagious music and rhythms of the party are varied and fun, creating a different, unique, exclusive night!
In the middle of the night, the surprises begin to appear.
The party characters distribute props like Alice's bows, crazy glasses, top hats, masks, hula hoops, bubbles, heart lollipops ...