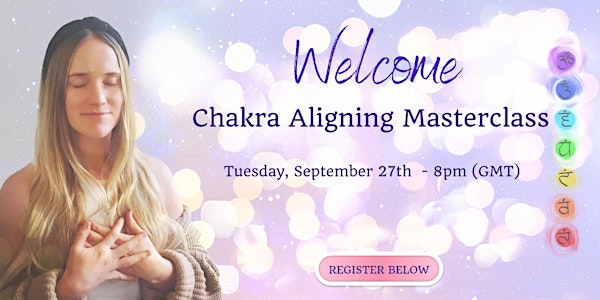 Chakra Aligning Masterclass
Create lasting change in your life, by learning how to balance the 7 chakras.
About this event
Chakra Aligning Masterclass
✨ In this FREE masterclass, I will reveal how YOU can use the 7 chakras to truly transform your life ✨
With over 10 years experience working with the chakras, I have seen first hand the impacts it has had for my clients and myself.
You can use the chakra system for absolutely anything, manifestation, self-love, health, wealth, abundance, relationships, intuition, motivation, strength, the list is endless.
We have so much potential and power within ourselves and unlocking our chakras is one easy way to access it.
I will be sharing with you the exact methods I use to balance the chakras for LASTING change in your life.
Understanding the chakra has enabled me to change my whole life, and I want to share this message and method with you.
Joining this FREE Webinar on Tuesday the 27th of September at 8pm. We will through each of the energy systems, and come together for a group distance reiki sessions to finish.
Spaces are limited so be sure to secure your spot TODAY!
This will be on Zoom. If you can't make the live you will be sent replay, which will be active for 1 week.
I'm so looking forward to seeing you there,
Namaste,
Katie x