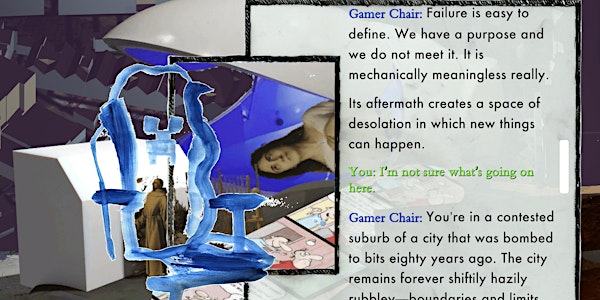 Character Creation Workshop—Daniel Tuomey
Character Creation Workshop is part of the exhibition 'Is Registration Possible?' by Daniel Tuomey.
By Pallas Projects/Studios
Date and time
Sat, 8 Apr 2023 14:00 - 16:00 IST
Location
Pallas Projects/Studios 115–117 The Coombe Cnr The Coombe & St. Lukes Ave Dublin Ireland
Refund Policy
Contact the organiser to request a refund.
About this event
"Did you ever figure out a problem by talking to a bus stop or a statue? Did you ever get a video game character's repetitive questions stuck in your head?
Daniel Tuomey will run a character creation workshop exploring the participants' experiences and feelings about the area they live in. We will look for places that speak to you, and try to figure out who it is that's speaking.
The workshop is dedicated to 15-18-year-olds on Saturday 1st April from 2-4pm.
The workshop starts with the familiar video game process of character creation. However instead of thinking about ourselves (the "player characters") we will focus on the construction of "non player characters": the repetitive, exaggerated, strange and broken things we bounce ourselves off as we go about our day. Using methods I developed while making my game "Is Registration Possible" we will assemble a cast of weird characters who haunt or possess the street corners, postboxes, problems and peculiarities of the Coombe and the Liberties.
The workshop will focus on collage, drawing and storytelling. Each participant will begin by identifying familiar places that always spark certain thoughts or feelings in them. Through collage and experimental writing we will give a shape, a face and a name to these thoughts. By the end we will have a range of these characters spread across the map, and will begin to consider what kind of community we are assembling."
Exhibition details: http://pallasprojects.org/project/daniel-tuomeycontrol-centre-charlois
About the organiser
Pallas Projects/Studios is a publicly funded, not-for-profit initiative run by artists Mark Cullen & Gavin Murphy, operating artists' studios and a project space in Dublin's city centre. Pallas Projects/Studios collaborates with peers to engage and develop current Irish contemporary art, through a commitment to solo projects by Irish and international artists, alongside occasional thematic group exhibitions, and exchanges with artists' groups around Ireland and abroad.